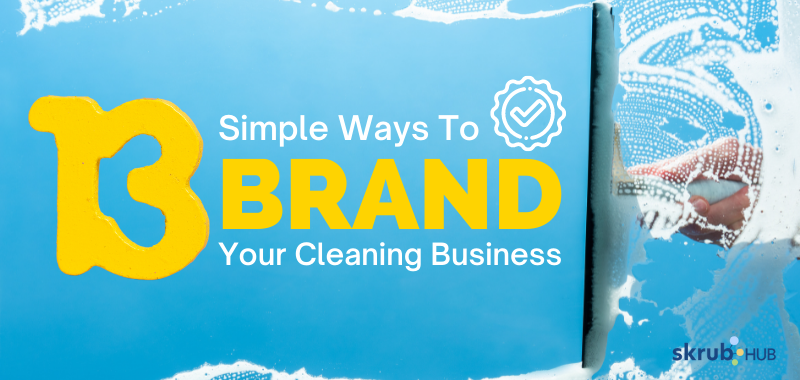 13 Simple Ways To Brand Your Cleaning Business
13 Simple Ways To Brand Your Cleaning Business
Branding is more than simply an attraction and a catchy phrase. It talks more about instilling ideas and sentiments in people when they notice your brand and are looking for a new cleaning business. Therefore, every branding should convey that you are the cleaning business they are searching for and should entice them to contact you.
A cleaning business brand is a primary impression a prospective customer receives just by looking at it. It should convey to the target clientele a visual picture that represents your business and what it represents. An excellent brand may also be recognized simply by its appearance.
But creating your own brand takes a lot of thinking to do, and it also requires time. That's because you need to decide on the perfect logo since it will represent the whole entity of your business. So what are the things to keep in mind to create the best branding for your cleaning business?
Simple Ways to Brand Your Cleaning Business
#1: Make your mark
The first thing to do when starting a cleaning business is to develop a name. Having a name is a crucial aspect of launching a new company and one that many individuals overlook. Because your company's name is its fundamental identity, it demands special consideration. To make your own mark in the cleaning industry, you must stand out.
Don't be intimidated by the prospect of coming up with a name. It might sound easy, but you have first to make some ground rules for selecting a name. Using indicative words might help you out. This will essentially make it simple for customers to comprehend what your cleaning business offers.
#2: Your logo is your lifeline
Your logo will be the initial visual picture of your firm, and it will not ensure success, but it certainly assists in identifying what your business is offering.
This is something you should think about since it will remain with you. It is strongly advised that you seek reasonably priced expert advice with this, as it will be money well spent. Homemade logos often look like that and give out the incorrect message.
#3: Shoutout your tagline
The following brand attribute to explore after your logo is your business tagline or catchphrase. Your tagline must describe what your cleaning business stands for as a primary message to prospective customers. It is also advised that you make slogans of no more than two sentences, according to Adoric. In that way, it can be memorable to the general public. Creating your tagline requires more brainstorming and if you have chosen one, request feedback from someone or a friend to ensure that it conveys the message you are offering.
#4: Design your own professional website
In this digital world, everybody is always on the internet. Creating your own website will tell your clients whether you are a reputable cleaning business or not. By looking at it, customers can instinctively identify whether a cleaning business website is an amateur or a professional one.
In designing your professional website, ensure that every tool in it should be of professional quality. Make the most of your website by emphasizing your brand and selling the services that you offer. And don't forget your brand name.
It is essential to have a distinct name in order to stand out, but it is much more necessary to get an accessible domain name that is the same as your company name. That's because people will have difficulty finding you online if it differs from it.
You should also avoid using a name that is already registered as a trademark to prevent lawsuits. A fast Google search will inform you whether or not the name you've picked is already in use. You may also utilize domain name generators to test whether the domain name you want is available.
#5: Do blogging.
If you want your professional website to be updated at all times with information about your cleaning business, you can continually maintain that using blogs. Blogs are incredibly flexible tools. For example, you may add a link to your blog from your main website, which could feature photographs and news about recent jobs and accomplishments. It might also include a current list of references from your clientele.
#6: Marketing is a plus
There are several methods to get your company's name out on the market. If you have funds available, you can market your brand by campaigning it to various outlets. You may also conduct a local event or even sponsor a webinar to market your service. Others also do networking and even cold calling to gather prospects.
#7: Pass your brochure or leaflet
When meeting a prospective customer, it's a good idea to leave something behind, whether a business brochure or a one-page leaflet summary. Of course, include all necessary material, but don't go overboard!
#8: Increase your network
Events are a terrific method to get your company's name out there among professionals. So distribute your contact information to as many people as possible.
#9: Keep your brands promise
It is pretty simple to speak about and market a "great service," but there will be no brand growth if that service is not delivered. Unfulfilled promises and missed expectations can leave customers with wrong perceptions of your brand, and news will quickly spread. Conversely, positive remarks regarding your brand will apply if you satisfy expectations and follow your commitments.
#10: Make your brand special
What will set you apart from the competition? Perhaps you will only use natural and organic cleaning products. People are attracted to this on this ecologically sensitive day. You might also offer lower contract durations or a complimentary cleaning time. Captivate your customers' attention so that they link your brand with strong business ethics, as well as competitive price and versatility.
#11: Be extra careful
Everything you do, both visible and hidden, will have an impact on your brand. Marketing, making some ads, car selection, telephone etiquette, and even equipment will all play a role in the growth of your brand. Continually evaluate the sort of response that each action will elicit and how it will benefit or harm your company and brand.
#12 Be always a model
Meeting customers and being pleasant, professional, and appealing are little steps to help consumers link your business with quality. This also pertains to how your staff conducts themselves.
#13 Provide uniforms
Without trying to be impolite, the cleaning business suffers from a significant proportion of poorly dressed cleaning personnel. Depending on the kind of shift, all cleaning employees should wear a uniform of some sort.
As stated by Dawson (2020), consider putting your business name and logo on your uniforms. Because it is an element of your brand identity, however, keep in mind that your whole logo and various colours will cost more than your business name simply sewn on your uniform in one colour.
It is all too simple to disregard your policy of using uniformed cleaning personnel. However, you should do your best to impose it since nothing appears worse than a crowd of cleaning personnel dressed in tracksuits and jeans, especially when customers are present.
Final Takeaway
Even if you're a one-person enterprise or a solo entrepreneur, you'll need a brand image to stand out and be noticeable. Unfortunately, because the cleaning market is so competitive, your brand identity may drastically affect your chances of success.
Whatever you have to offer and your branding will be, the aim here is to persuade people to become your customers. Once they've done so, it's up to you to provide such outstanding cleaning service that they'll never want to deal with another cleaner anymore.