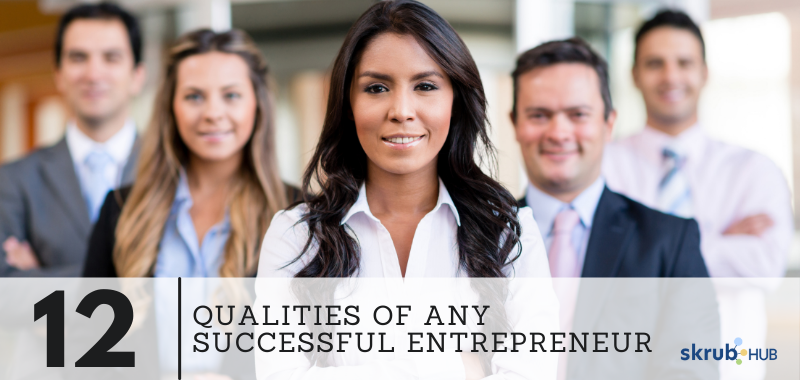 12 Qualities of Any Successful Entrepreneur
12 Qualities of Any Successful Entrepreneur
Many different sorts of individuals are attracted to entrepreneurship, and a vast range of abilities and characteristics contributes to the visons of a successful entrepreneur. The perspective in line with a successful entrepreneur might be challenging to describe, explain and summarize in one profile.
However, it is always simple to identify them personally rather than shadowing them on the opposite of reality. By evaluating some of the most prominent qualities of a successful entrepreneur, we may replicate, nurture and grow them to be one of their lineages.
Here are 12 qualities that any successful entrepreneur should have. Without them, an individual would miss the mark to succeed in any business venture.
#1: Risk-taker
Many individuals could succeed if they know how to take risks, and those who take the risk become successful so that they fulfil their aspirations to have the potential to overcome challenges. Unfortunately, they somewhat hamper their continuing success by withdrawing from scratch to start all over again.
Most often, employees who work in a company have the attitude to focus on their desire to have a secured job. They often lack the tenacity and perseverance that a truly successful entrepreneur has. People who stick to what they know and settle for less means they have denied their goals in the long run.
Fear does not affect entrepreneurs. However, they know how to prioritize things and handle every circumstance they may encounter. They have a different approach in life that makes failure fear them.
#2: Confidence
One quality that any successful entrepreneur must have is confidence. Most entrepreneurs today are famed for the notion that they work confidently in what they say and do. Of course, people aren't born with confidence, but it does not imply that they aren't capable of such.
Successful entrepreneurs harnessed their confidence through the skills they perform every day. They have built their self-esteem and trust in their capacity to face any obstacle they might encounter. When they act, they act. When they do, they do. That is one expected quality that is very obvious when we find one because they have already witnessed results, and people already appreciate them with respect.
#3: Leader
Successful entrepreneurs are not just self-motivated persons who rush into things with excitement but are also adept at leading people. They recognize the value of cooperation and the importance of appreciating, supporting, and rewarding others.
Good leaders often do not become indispensable, and when everything breaks apart, they will never achieve the pinnacle of being independent and profitable. They also do not waste the talents of individuals who have potential and even share their authority and time.
#4: Responsible
A successful entrepreneur portrays the responsibility for completing the tasks and doing them with the utmost attention. Rather than seeing an obstacle from someone's perspective, an entrepreneur views it as his own and takes satisfaction in solving it.
They often leave things in their best form than before meeting them, thus improving it in every way rather than having it unchecked. The entrepreneur thoroughly understands that the objective is ought not to be controlled by the servitude of duty. Rather than dominating events to own them, they teach other people how to take care of things the right way.
Moreover, individual responsibility is used in this manner by the clever entrepreneur in its ultimate quest to total success.
#5: Sociable
Entrepreneurs are socially outgoing since business talks about people. They become thrilled to share ideas with everyone, and their energy will spread to their workers, friends, and customers both inside and outside the business world.
On the other hand, they embrace the rare chance to enjoy what they love as their main career. They know this from personal experience, and they can find fun in everything they do, both work and in the outside world.
#6: Well-spoken
Successful entrepreneurs understand that the human aspect of communication is the most crucial in terms of business. This is why communication is the primary key to building effective connections with other people.
This comes from the entrepreneur's hard work to improve his ability to communicate, whether in terms of spoken, written, or even gestures. And to facilitate effective communication, they will make use of modern technology tools and resources that they can find.
Above all, entrepreneurs cultivate a remarkable capacity to listen and comprehend what others are trying to communicate since they know that the finest communicators began as best listeners before.
#7: Positive
Being optimistic is vital for an entrepreneur in which one learns to see losses as a cheap avenue for the valuable business skills learned firsthand. Past flaws, mistakes, and disagreements are left to the past, making it just learning for them to be used in the present.
When things go well, the positive outlook in life feeds an entrepreneur's optimism and gives him the energy for bigger successes and achievements.
#8: Willingness to Learn More
Entrepreneurs are known to be avid learners, which indicates that they learn most of what they have experienced firsthand. They are also quick in learning from their mistakes, and they are less likely to repeat them again.
And to lead, teach and transfer learning from experience to others, they continuously attempt to learn more and improve along the way. They don't stop and settle for less because they know that it is important to develop themselves further to be successful.
They are passionate about education and even consider others' perspectives and opinions even if they differ from their own. As a result, they continue to enhance themselves with information while making a purposeful effort to expand every bit of it by giving others the limelight.
#9: Committed
All entrepreneurs devote themselves to realizing their goals, ambitions, and aspirations. Their tenacity produces the energy to help them throughout the business. It further makes it the basis of what to become in the future.
One of the most common causes of failure is lack of focus. Even if it is about identifying a goal, explaining a purpose, fine-tuning a brand, and so on, the entrepreneur provides every effort in providing a single devotion to the goal to end with good results.
They are also prepared for whatever will happen, even if they face challenges and further go above the line of duty. That demonstrates their unwavering devotion to continuing the excellence they provided from the very start.
#10: Cooperative
Those who start their own small business but do not collaborate end up with no team. They bear the whole load and end up just swapping their old job for a new one. However, entrepreneurs work hard to understand how to use an interpersonal way of doing things. This is to make connections and build linkages as a mark for a business to thrive.
#11: Systematic
Entrepreneurs depend on systems before they organize something. Therefore, they often seek systematic solutions before seeking others. It enables them to do things accordingly to give excellent outcomes with less effort and fewer resources.
Similarly, while troubleshooting and issue fixing, the entrepreneur will first evaluate and understand the system – since a flaw in the system will always result in a flawed conclusion. An entrepreneur's most valuable and gratifying abilities are designing, developing, and improving processes.
#12: Thankful
Being thankful allows us to obtain more opportunities. Entrepreneurs value everything and foster it. They do their hardest to help it grow rather than allowing it to wither away. Today, entrepreneurs don't take everything for granted, and in fact, they allow themselves to rise always.
It offers them the flexibility to adjust to changes and needs while simultaneously instilling gratitude that reminds them of the fulfilment, contentment, and joy they have from each of their successes.
Final Thoughts
It is critical to recognize that not everyone is fit to be called an entrepreneur. However, it can be developed over time through hard work and consistency. Otherwise, an individual will waste his time and effort attempting to start a company, only to learn that it is not the way it should be.
People who choose the incorrect path due to a lack of knowledge might lose crucial time and financial resources. But others who have the qualities of a successful entrepreneur can benefit significantly from knowing how to define the fundamental requirement and nature of becoming one.
Knowing the qualities of a successful entrepreneur will help define one sense of purpose. Further, it may assist in achieving targets to increase opportunities along the way.