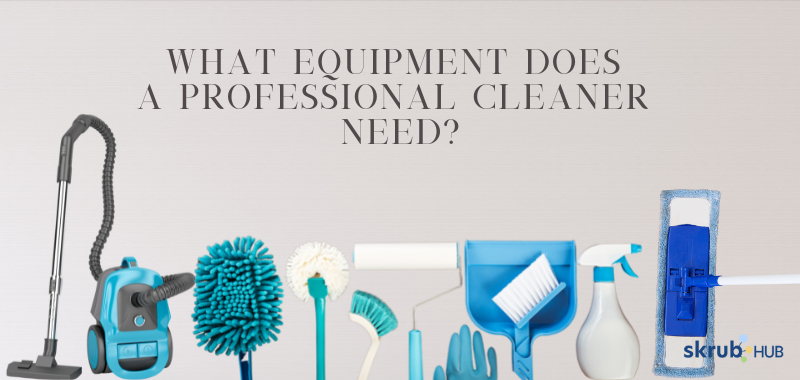 What Equipment Does a Professional Cleaner Need?
What equipment does a professional cleaner need? Here's the answer…
Have you considered establishing your own cleaning business? If yes, you are on the right track. Cleaning services are in high demand, especially at this present time in this COVID-19 pandemic. A cleaning business may be the right choice for someone looking for a low-cost and quick-start business.
But how can you start your own cleaning business without cleaning equipment? Having the right cleaning tools is essential. You can't accomplish your job if you don't have one. Now is the time to collect all the cleaning equipment and supplies you will need.
You might say that it is simple to find one, but you're mistaken. Why? It is because equipment and tools vary in your chosen business structure. However, many items and supplies are universal in general and will be required regardless of your specialisation. So let's gather some of them and read below to know the equipment you need as a cleaner.
Equipment, Tools, and Supplies
The cost of cleaning equipment, tools, and supplies may vary depending on what sort of cleaning service you start. You must guarantee that earnings compensate for any equipment costs. You should consider the quantity and quality of every piece of equipment to ensure that everything is fine during the actual cleaning work.
Basic Tools For Residential Cleaning
Of course, this is simply a starting point and is ideally suited to a household cleaning service. If you decide to run a commercial or specialised cleaning service, you may need extra equipment. Here is the necessary tool that you will need for residential cleaning:
Brooms
Dustpans
Brushes
Mops
Bucket
Sponge
Cloth and Towels
Spray Bottles
Vacuum Cleaner
Mask
Wipes
Gloves
Hairnet
Garbage bags
Feather Duster
Extra Tools For Commercial Cleaning
In commercial cleaning, all the materials you need in this type of service are the same when doing residential cleaning. However, you need more sophisticated materials to clean a larger area. Here are extra tools that you will need for commercial cleaning:
Floor Cleaner
Large Vacuum Cleaners
Pressure washer
Furniture Polish
Extra Tools For Specialty Cleaning
In specialty cleaning, you may not require as much equipment but make sure that you need the exact tools that will benefit your service. Here is some equipment that you will need specifically for your specialty in cleaning:
Carpet Cleaning Machine
Ladders
Steam Cleaners
Floor Machine
Signages
Cleaning Products
Don't forget your cleaning products as well as they will help you do your job more efficiently and perfectly.
Detergent
Disinfectant
Hand sanitiser
Multi-purpose cleaner
Cleaning agents
Handwash
Air Freshener
Stainless Steel Cleaner
Stain Remover
Note: These chemicals are considered dangerous substances and must be handled, utilised, and stored with care. If you use them, you should also wear safety gear, such as a pair of cleaning gloves.
Who will supply the cleaning products for every cleaning service?
In general, you should aim to offer your own cleaning products and equipment. It will be more convenient for your customers, making you more professional. One way to reassure and impress your customers is to let them see that you are prepared whenever they call you.
You may charge extra for it since customers pay you for the convenience of having you get the proper supplies and the right equipment. Also, the advantage of getting your own cleaning products is that you are familiar with them, and you know that it does the cleaning job perfectly.
Where to purchase cleaning equipment and products?
There are lots of ways to purchase your cleaning equipment and products. You may start by looking at the basic materials from any large store that offers wholesale prices. Buying also in bulk is a good idea since the prices become reduced for every purchase. It is also advised that you get the basic materials in bulk so that you won't run out of them while you are doing your job.
Another avenue is to go online to buy your cleaning equipment. Consequently, e-commerce has been thriving at this present, according to Entrepreneur Store. More sellers are going digital because of the convenience that it can make. There are also many sales and discounts over the internet that you can take advantage of.
There are also secondhand items that can be bought through an auction, or maybe one friend of yours is selling their cleaning equipment for a low price. You may grab that opportunity but make sure to test out the equipment before purchasing.
Which is better equipment? Cheap or Expensive? New or Secondhand?
All in or start cheap? This is the question that your mind will ask you exactly. Generally, each choice offers advantages and disadvantages. But the choice is yours to make.
Buying cheap or secondhand equipment is a practical way to start since it is also economical in the first place. However, there might be serious implications because these items won't last long. Similarly, purchasing low-cost cleaning agents and solutions might be hazardous to one's health due to low-quality chemicals and ingredients. Therefore, not only does it endanger your customers but you as well.
On the other hand, expensive and new equipment survive longer than a cheap one. Unlike regular home usage, you will use every piece of equipment numerous times weekly. So it's reasonable to purchase a high-quality one because you know that these will wear out quickly. Cheaper products may not have warranties and are more likely to break down quicker, resulting in you spending more money replacing them again and over.
Always choose high-quality items if you have the budget. This will also make a favourable impression on your customers. In addition, high-quality items are more likely to offer extra features that allow you to deliver more outstanding service to your customers. You may also use it for advertising that you have the best equipment for your cleaning service. According to Universalclass, you should examine reviews and ratings to ensure that the brand you choose is dependable and long-lasting and that it is suited for regular commercial usage.
How to store your cleaning equipment and products?
After getting all of the equipment and cleaning products you need for your cleaning service, you may want to find a place for safekeeping. If you don't have enough space at your home or a vehicle, perhaps, you may rent a storage unit.
In storing them, ensure that every cleaning product is sealed and put in their original containers whenever possible. Also, make it a habit to read the instructions before using them. Aside from that, cleaning agents should be kept in a safe location.
Can I use eco-friendly equipment?
Another method to differentiate your company is to provide natural and sustainable cleaning services. Individuals concerned about their health or the environment or those who have young children prefer to use safe and natural cleaning solutions.
However, before investing in natural goods, do your homework. It's critical to ensure that they're genuinely organic, harmless, and effective. According to Corsillo (2021), you can choose a variety of natural cleaning products available in the market.
Final Takeaway
Cleaning services are profitable sectors with enormous development potential. It is not expensive to begin started, and if you regularly deliver outstanding results, you may find out more business than you can manage though you must be prepared at all times.
You must also have the proper equipment and supplies. That includes the proper basic cleaning equipment and products and the proper handling and storage. Do you now know what it takes to be the best professional cleaner? Are you ready to take the challenge? Get your equipment and gear up!