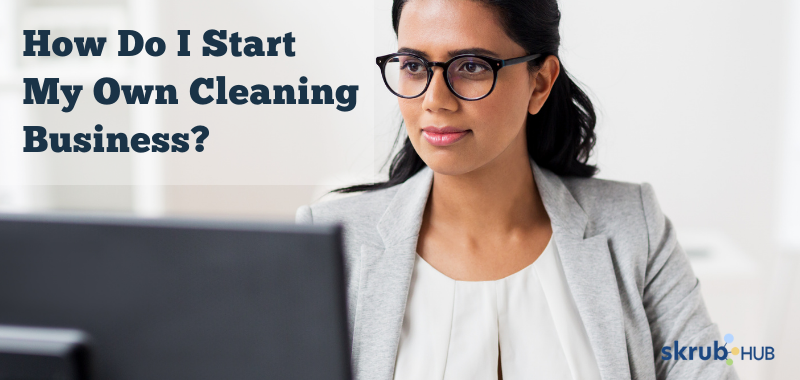 How Do I Start My Own Cleaning Business
Challenge: How Do I Start My Own Cleaning Business
The concept of a cleaning business is very appealing, but before you jump in, assess if you have the necessary abilities and mindset. For example, being your own boss and choosing your own hours may seem attractive, but the fact is that if anything goes wrong, you are accountable for making it right. To build the business company of your dreams, you must be willing to commit and invest time and money.
Extra hours are usually required in the early stages of a new endeavour. Other personal ambitions may never be reached since you must devote much time to operating the business based on your financial aspirations. Examine your motivations for starting your own cleaning business to see whether you have the correct mindset. With that said, where do we even begin? Are you interested in learning how to establish a cleaning business? Let's get started.
Start With A Goal
Starting a cleaning business will include extensive preparation. To start, you need to establish your goals and objectives, as well as a timetable. This is a critical step because there would be no process and management without it. Do you now have a goal? If yes, then let's start planning!
The present conditions and long-term objectives will significantly influence your strategy. Since your goals are running your plan, you must be very practical with it. But do not overexert yourself in the process with the decisions you will make.
You must choose what road your cleaning business will take over the year. It's good to concentrate on the starting year while looking on a long-term basis. Moreover, your objectives are dependent on the resources you have. That's why you should plan appropriately because it will determine your cleaning work hours if you start only on your own.
Do your homework and check the average hourly salary in your area so that you can think of what cleaning service you will offer. These services include Residential Cleaning, Commercial Cleaning, and Specialty Cleaning. It's critical to understand each cleaning service before deciding which one to pursue.
Solidify Your Business Structure
Choosing your desired structure. The next step is to do "business" with your business. When launching your first cleaning business, you have three business structure options. A sole trader that can give you the most accessible and cheapest option, but you are doing things solo. A partnership with someone you know; however, everything is divided between you. And a company that can hire employees but has higher costs and taxes.
Know your taxes. Speaking of taxes, this is determined by your chosen business structure. It may either be classified as a personal income or company tax. In addition, companies must also pay payroll taxes and capital gains tax. Finally, you should also register for a goods and service tax if you have products.
Register your business. After knowing the things above, you will need to register your cleaning business. But the good thing is the cleaning sector is unregulated. However, it is practical to check first with your local government if there are any special regulations for cleaning businesses.
A recognised certification will guarantee that you know the right items to utilise in different situations. It will also assist you in creating trust with your customers. You can find what licenses and permits you will need here.
Get insurance and create a business plan. In any business, insurance is a must. Otherwise, you may have difficulties. First, get public liability insurance that will cover any expenses associated with damage to a client's property. Other insurance includes property insurance, vehicle insurance, and worker's compensation insurance.
In other matters, do you really need a business plan? The answer is yes! If you are passionate about starting a company, you will need to develop a business plan. This should not be a lengthy document that collects dust in your drawer; rather, it should be a realistic step-by-step action plan that sets out the activities you need to follow.
Have a series of training to qualify. In reality, you don't need to have a certification to do professional cleaning. However, this will make a difference because clients and establishments go to cleaners who are only qualified. A recognised certification will guarantee that you know the right items to utilise in different situations.
To franchise or not?
Choosing whether you franchise or start your own company is a crucial choice to make. Both methods have benefits and drawbacks. The choice is yours to make, and it will be based on your own preferences and circumstances.
If you choose to franchise, you will get an established brand name a proven business model with marketing support and assistance. However, you will need to invest money to do so. Aside from that, selecting whom to franchise is another consideration. According to Stowe (2017), franchisors fail to provide continuous service and support once the initial fees are paid.
But if you start independent, you will do things in your own way. You will have complete control of your business with low-start up costs; thus, you will retain all profits. The downside is that you are on your own and will encounter problems that you will solve solo.
Obtain fundings
Indeed, starting a cleaning business is profitable because the initial cost is lower than you imagine. But, of course, it also varies on where you live and the sort of cleaning service you want to run. But how will you get the capital that you need?
There are various options, such as your personal savings, angel investors, grants, and loans. However, before finding one, you must determine first the amount of money required to launch your cleaning business.
Find the best equipment
After completing all of your planning and legal documents, it's time to acquire all the cleaning equipment and materials you need. This is your biggest expense; however, you can find all equipment that will suit your budget. Cleaning equipment will range from brooms, brushes, disinfectants, bags, and the like. In addition, equipment will vary with what cleaning service you offer.
You may get all of your basic materials from any shop. If you find a store that offers in bulk, grab it. Another potential alternative is to buy online. If you're fortunate, you can find discount coupons and even sales. Additionally, you may get second-hand items that may save you some money, but you should double-check them first before purchasing.
Create a professional name
Thinking of a name is a vital aspect of launching a new cleaning business and one that many individuals overlook. Because your business's name is its fundamental identity, it demands special consideration.
Besides your personal branding, you can optimise your business by establishing a website. It allows clients to learn more about you and even contact you quickly. Another thing is to create your business logo. It is just as significant as your business' name.
Lastly, do not forget about the uniform. Wearing a uniform when doing the cleaning part offers a lot of advantages. First, it will make you look professional. Simultaneously, it can act as a marketing tool and safeguard all your employees.

The price is right
It should not be difficult to determine your package pricing and rates for any cleaning service you offer. Pricing is especially crucial for starters. You want to stand your ground, but you also want to generate profit to break even quickly. Therefore, you must consider the price of cleaning service, supplies, and anything else you must pay every month.
To decide the price, you'll need to research and create your cost analysis to determine the best price to benefit you and your customers. To give you an idea of the average salary price, click here.
Find clients and marketing
If you thought starting a company from scratch was difficult, wait until you get your first client. For a starter, this is not an easy task. Many clients are hesitant to hire someone new. As a result, you'll have the most of your time to get clients to get started. Now it's time to concentrate on marketing. If you want to develop your cleaning business, you must advertise it and do some marketing. This is to outperform your competitors to gain an advantage on your location.
One option is online marketing. Having referrals may also be your best bet. In the cleaning sector, referrals are the most effective method of obtaining a new client. Next is using social media marketing. You may want to advertise your cleaning business through social media sites like Facebook, Twitter, and Instagram. You may also do basic marketing such as giving flyers, business cards, or brochures. It's an excellent tool for informing clients about the cleaning services you offer.
Final Takeaway
There you have it! After doing everything, all you need to do is to keep up your pace. Satisfy your customers, have some training and of course, perform the cleaning process as you intend to be. After being successful in your trade, you can now expand into other areas and do the process again.
That's all there is to know about starting your own cleaning business. If you are confident about it, get started right away. Start working on your business venture using the information you've read and make your dreams come true.