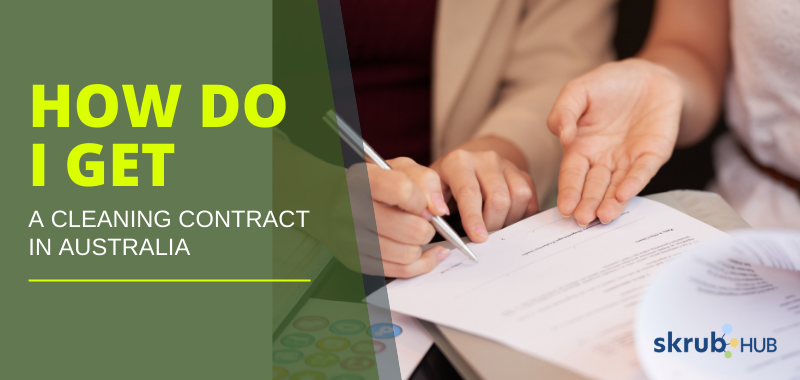 How do I Get a Cleaning Contract in Australia
How Do I Get a Cleaning Contract?
You've already set up your cleaning business's website, prepared all of the necessary paperwork (license, business registration, and insurance, to name a few), and even calculated and considered your cleaning rate. You are now ready and eager to serve your first customer. But how exactly do you find and attract customers?
Landing a cleaning contract is one of the first hurdles of a newly put-up business. Customers will hesitate to avail the services of a novice cleaning business, especially without somebody's recommendation. Hence, you'd really need to invest some effort to reach potential clients. This section will discuss the steps you can take to get both residential and commercial clients.
Do Research
The first thing you need to do is determine your target market and narrow it down further into more specific niche markets. Your niche market is a group of particular clientele you wish to do business with. For example, you can target busy families, homeowners, banks, or offices. It is okay to stick to one or two target markets if you are still starting.
Being in a big city would mean you have plenty of potential clients in your chosen niche markets. But it'd be best to start somewhere near your neighbourhood. If you target homeowners with specific needs, list possible subdivisions, villages or streets you can begin with. You can also do the same if you want to cater to businesses or offices.
If you are into commercial cleaning, you'd need to list the contact person for each business. Doing business with commercial establishments would require you to have a more formal approach. You need to know who you need to speak with and who is calling the shots. Not doing your due diligence in researching these can cost you a deal.
Develop a Marketing Strategy
Researching niche markets alone is exhausting. You might ask, why the need to do it? Why can't you just offer your services directly to everybody? The truth is, you cannot promise to be all things at once to everybody simultaneously. This approach would make you seem like you're providing generic work without addressing a customer's specific problems.
Remember that a client will be attracted to doing business with you if you can solve and address their problems or needs. You need to grab their attention! If you frame your company and cleaning services as something that can address their concerns, you will be given a better chance to demonstrate your services to them. Conceptualize a unique advertisement for your chosen niche markets.
Offer Specialized Services
Look into the existing companies you'll be competing with. Determine the rates and the scope of work included in the quoted price. In crafting your service catalogue, you must not merely try to keep even with competitors' prices. You need to set yourself apart from the rest and stand out among the crowd.
Persuade a potential customer that you can actually offer better products and services than your competitors. This can be in the form of special services such as carpet cleaning and window cleaning on top of regular cleaning for a discounted price. You can also highlight that you are using eco-friendly products or that you are accepting service 24/7. Always position your company as an entity that can offer better benefits and solutions to your customers.
Be Visible
The best advertisement would be useless if it could not reach your customers. With the advent of online marketing, competition has been fiercer than ever. Tech-savvy customers will google products and services and read reviews before buying or reaching out to companies.
Unfortunately, some customers can also be too busy to stay online, and you'd need to be visible to them, too! The following are ways to be visible to customers, whether they're online or not.
Website: This is the most important marketing tool you should invest in. When you approach potential customers about your cleaning business, chances are they'll be searching for your company online.
Your cleaning business website need not be too fancy as long as it is professional-looking and easy to navigate through. It should include general information about the company, the company crew's profiles, the services offered and their corresponding prices. You may also promote your work with testimonials and consumer reviews.
If your business capital allows it, investing in online marketing strategies will not hurt to increase your web traffic and let more customers find your company online.
Social media: A company website that'll tell people about your services is important, but social media presence lets you engage with your clients more directly. Choose from many social media platforms by focusing on where your clients can be reached best. The following are some of the social media outlets you can delve into:

Facebook
Instagram
Twitter
TikTok
Pinterest
Decide how often you want to upload new content to maintain your online presence. You can post new photos, videos, or blogs every day across media platforms or do so twice or thrice a week, alternating between different platforms. In any case, posting new material consistently keeps your cleaning company visible to your clients. Do not forget to fit the contents of the posts to your cleaning company's target audience. You can do different content for each respective niche market.
Print Media: Online marketing might be the norm today, but do not underestimate good, reliable print media. Advertisements in print media have become cheaper now with advances in technology, and you can take advantage of these opportunities.

Flyers and brochures
Business cards
Paid advertisements in local newspapers
Referral Programs
The tips, as mentioned earlier, are best combined with referrals or word of mouth. In the cleaning industry, personal referrals are the most effective method of getting new clients. In fact, according to a study titled "Referral Programs and Customer Value," clients that existing patrons refer will more likely stay than other clients by 18%.
Being referred by others would mean they trusted you to do business with you, and you can be trusted by others too. If you are just starting your cleaning business, ask your family, friends, and neighbours to refer you to potential clients. Once you have your first few clients, you can ask them to refer you to their friends and family.
Clients will be more enthusiastic about referring you to their peers if you offer referral discounts. In addition, incentives like gift vouchers to both the patron and the newly-brought customer can boost the referrals you'll be getting. Don't be shy about asking for referrals if you are confident you have delivered exceptional service to your customers.
Instead of referrals, you can also request clients leave testimonials or reviews on your website and social media accounts/pages. This will help you gain the trust of customers and boost your credibility.
Build Your Professional Network
The cliché line "it's who you know, not what you know" holds true since the right connections may make all the difference in professional settings.
You may cold call business owners that are your target clients or ask for a little of their time to personally meet with them and tell them about your cleaning business. Attending conventions and networking events is an excellent way to build professional connections. These gatherings are also an avenue for you to learn personally about their cleaning concerns and a chance to hand out your business cards.
These formal meetings might be intimidating, but pitching your cleaning business honestly and genuinely can surely earn you their trust. Do not merely treat the people you'll meet as potential customers from whom you can get benefits and profits. Instead, nurture your connection by treating them as friends who can teach you something or two. Ask about them, send well wishes and show that you care.
Another way for you to build connections is to join professional trade organizations. Belonging to professional organizations gives your cleaning company a sense of professionalism and a certain level of trust from customers.
Some of the organizations you can join in Australia are the National Australian Cleaners Association and Specialised Restoration & Cleaning Professionals. Linking with other professionals in the same industry gives you information about other businesses, keeps you abreast of the latest trends and innovations, and enables you to obtain training and certificates for your business and employees.
Last Words
Getting cleaning contracts for your cleaning business boils down to identifying opportunities, developing a professional brand, providing high-quality cleaning services, and professional networking.
Starting out in the cleaning industry can seem daunting, but you just need to take it one step at a time, and in no time, you'll find yourself being sought by customers.