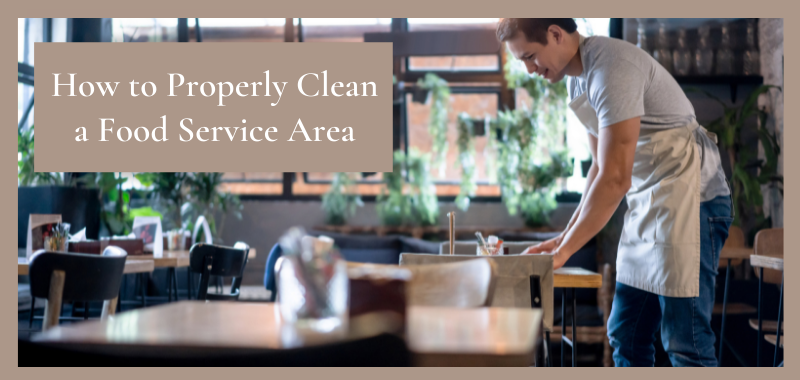 How to Properly Clean a Food Service Area
How to Properly Clean a Food Service Area
Cleaners in a food service area are often seen cleaning the premises constantly. Usually, it is not enough that they will only be given a piece of cloth and a spray bottle to wipe things accordingly. However, cleaning the entire food service area takes a lot of preparation and doing the cleaning part is not that easy.
Cleanliness is an important aspect of the customer experience. Everything that can be seen inside a food service area must be well-maintained to create a lasting impression on many people entering the premises. It also influences how customers view the food service area as a whole. That's why it is necessary to clean a food service area properly. And here's how to do it. Read below to find out!
How to clean and prepare tables?
You may be expected to clean and arrange tables before or during business hours of the establishment. The first thing is that you should inspect each table to verify that they are secure and safe to use. Tables should not wobble and be sturdy. If you can see spillages and stains on the surface of the tables, make sure to clean them thoroughly. Wipe it with a cloth and liquid detergent cleaner, then dry it. Place a cloth above the table when required.
Ensure that every table is free of silverware, plates, and placemats when cleaning the tables. All table surfaces should be tidy and clean, and there should be no visible streaks. Do check other furniture and components in the food service such as chairs, electrical cables, and carpet. They should also be checked for safety.
How to clean public food courts?
In a food court, your main job is to keep things tidy and do a comprehensive cleaning and sanitizing. You should make everything you can see in the food service area squeaky clean as a cleaner. Working as a cleaner in public food course entails many responsibilities.
A busy public food court is always messy, and wherever you put your sight on, you will see trash at every table once the customers have deserted them. Your task is, of course, to remove the trash and clean the tables for other customers to use. This includes throwing away leftover meals, drinks, utensils, and plastics. When throwing these items, make sure to segregate everything to make things sustainable. Not only that you are helping the environment, but you are also helping the establishment properly dispose of this garbage in their proper place.
In addition, you are tasked to get reusable plates, trays, and cutlery. First, collect and return them to the appropriate washing areas. Then, put everything in the dishwater and clean it properly so that it can be used again. Make sure to also arrange everything back to its proper place after cleaning.
Don't forget the tables because customers may get annoyed if they see something on the surface. In cleaning the surfaces, use a neutral detergent to avoid an odour that will cling to the table after cleaning it.
Be sure to clean up any garbage you can see on the floor and if ever there are spills, wipe it up with a mop and use signage when you do this. Don't focus only on the furniture because the floor is a key to a clean food service area. Respond quickly to any significant spills to prevent someone from sliding on a wet or filthy floor.
After a day's work, the trash bin should have been packed by that time. However, most often, it will overflow because of too much garbage. Therefore, before going out from work, it is your responsibility to empty the trash bins before they overflow and transport the waste bags to the correct destination.
How to clean spills in food service areas?
Spillages inside a food service area are considered a hazard, to begin with. There is always the possibility that a customer may be wounded due to cleaning, incredibly when you clean in a disorderly manner. This can lead to negative feedback and public relations and may also lead to costly legal action.
When cleaning spillages in food service areas, use signs visible from afar. It must be accounted to put enough signage signs to alert anyone entering the area from every direction. Also, barricade the entire spot so customers won't even dare to go inside. It is a rule of thumb to put barricades and signage such as a "Slippery when wet" when cleaning spillage in a food service area.
As a cleaner, you are accountable for the people's safety and yourself. It is your responsibility to take care of and maintain the foodservice area that it can't endanger anyone. If you fail to do so, accidents may occur, and you'll face serious consequences.
How to properly dispose of wastes in food service areas?
Health rules and regulations require food service areas to have enough trash bins to accommodate whatever garbage is generated daily. According to the Policies and Governance for Waste from the National Waste Report 2013,  waste management and proper waste disposal is not just the duty of governments but also encompasses many sectors and enterprises and communities, homes, and people. This is why it is imperative to dispose of waste in their proper designated area after cleaning.
The period of waste disposal varies depending on how big the food service area is and the time of the day. The busiest time of the day is from 12 noon to 2 pm, and these are the busiest, thus needing regular garbage disposal. If trash is scattered around trash bins and running over the tops of it, either there aren't enough trash bins in the service area, or these haven't been emptied as regularly most often.
You don't want the customers to see how dirty the garbage area is, right? Other than disposing of the wastes, the rubbish area must be maintained and cleaned at all times. It must be kept in such a manner that contamination is prevented and minimized. All trash bins must also be in excellent working order. Furthermore, these must be equipped with tight lids that must be maintained in place to prevent pests from lingering in the garbage.
The cleaning of trash bins is mandated by existing law, and they must be cleaned regularly using cleaning equipment and brushes devoted to that purpose. After cleaning, the trash bins should be securely placed again in their designated area to be used again.
How to dispose of recycled waste in food service areas?
Foodservice areas produce a lot of garbage each day. Most of them include recyclable waste, including glass, plastic, and aluminium cans. These wastes are separated for recycling in different containers. Also, garbage and other food packaging are often disregarded in the regular trash bin.
Paper, cans, bottles, and other recyclable waste are all too often discovered in a food service area. By placing these products in the appropriate recycling containers, the food service area can benefit the environment while saving money on garbage collection. To avoid waste and recycling from being mixed together, make sure the food service area's trash bins are correctly labelled and exclusively used for recycling purposes.
Final Takeaway
When it comes to customer satisfaction and health, cleaning the food service area only accounts for half of the task of reducing contamination hazards. After every spot in the food service area has been cleaned thoroughly, it should be sanitized.
Maintaining the entire food service area is essential for avoiding foodborne diseases. As we all know, bacteria may develop on soiled surfaces and leftover foods simply because a surface that seems clean does not imply that it is hygienic. As a cleaner, it is your utmost responsibility to make every component in the food service area clean at all times. Make sure everything is in tiptop shape so that customers will come back to utilize the area again without worries.