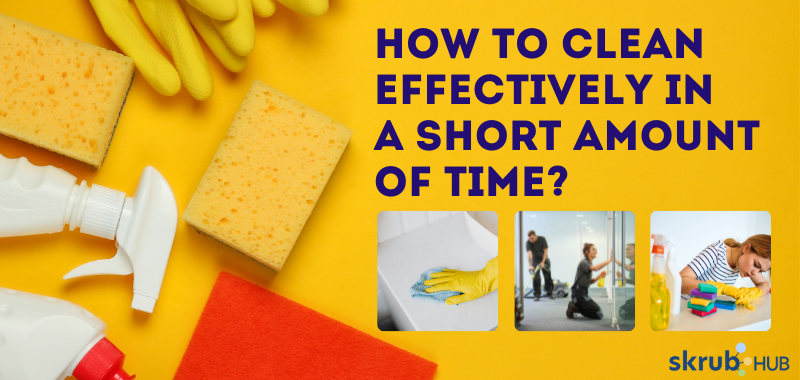 How to Clean Effectively in a Short Amount of Time
How to Clean Effectively In A Short Amount of Time?
Cleaning varies on personal preference. Some may think that cleaning is a boresome chore, but some find cleaning a hobby. Either way, it is crucial to clean at a specific pace efficiently. No matter how big or small the area you are cleaning, it would help if you learned how to manage your time well to accommodate every space you need to clean.
Time is essential in all aspects of life. If you aim to accomplish tasks effectively, you must know the influence of time on everything you do. For example, tasks such as cleaning do not have a specific required time range; the more you take your time, the more it will come out clean. However, if you are cleaning many spaces, you should generate a specific routine to get things done fast and effectively.
How Can I Manage My Time?
From pieces of equipment to schedules, there are various ways that you can use to manage your time. Particularly in office cleaning, you must use your skills and critical thinking to find which method is beneficial. Slacking off and taking your time is discouraged, as it only leaves more backlogs in the end.
What types of equipment should I use?
You can boost your skills with the proper equipment. The reason why people invest in things is that they can be more efficient when using these. Moreover, it would help if you thought thoroughly about the equipment you buy. Always make sure that it can be helpful to and will benefit you to clean resourcefully.
Cleaning equipment can vary from appliances to standard cleaning tools. For the former, appliances like vacuum cleaners and polishing machines effectively clean large spaces. Moreover, they can clean and polish your area in just a minimal amount of time, but they can be very noisy in the workplace. For the latter, cleaners have a variety to choose from. The original broom and dustpan are also valuable for cleaning specific space measures. Soap water and a good sponge also work wonders as cleaning tools.
Steps to Efficiently Plan your Cleaning Routine
Cleaning office spaces is not an easy job to do. If you are a lone cleaner, it is nearly impossible for you to clean everything within the given time. Making a schedule and a to-do list helps you minimize your effort in cleaning while providing your clients quality services. It is essential to know these steps to be resourceful and look professional in your work.
Step 1: Be familiar with the area
The best way to create your plan is to know what to plan. First, it is crucial to be familiar with the space you are cleaning, especially when cleaning a new area. When you clean the building, it does not particularly mean that you should do every routine in every space. Some spaces require less work, and some require extras, which is why knowing the area is the first and most vital step to adequate planning.
As you analyze the building's spaces, you need to take down notes. For example, it would be best to note how ample the space is and what specific cleaning methods should be used in the area. Also, you must be aware of the spaces that need daily cleaning and those that are fitted with periodic cleaning.
Step 2: Create a map
To minimize the effort of going back and forth, you should create a pathway that you will follow as you clean the area. Creating a map allows you to be systematic in cleaning. You should never forget that clients do not like wasting their time; thus, you should generate a map that analyzes what tasks can be done simultaneously and what tasks you can do easily.
Step 3: Plan your equipment beforehand
It is essential to be aware of the materials to buy before actually doing the tasks. You must know how to estimate the number of cleaning products used in each area as you have already analyzed the cleaning spaces. Moreover, you should be knowledgeable of the processes and equipment you will use for each room.
Step 4: Know your routine tasks and periodic tasks
As mentioned, not all tasks are to be done every day. By analyzing the building, you are now informed of your daily and weekly tasks. Through that, you can now use your calendar and note down the dates that you will organize from your weekly or periodic tasks. Also, keep in mind the time you will allocate for each area and try to follow it as much as possible.
Types of Cleaning Tasks 
There are three types of cleaning tasks in an office area: (1) daily tasks, (2) intermittent tasks, and (3) periodic tasks. It would help if you analyzed these to create an effective plan for your routine.
#1: Daily Tasks
As for the name, daily tasks need to be done on a daily basis. These are areas that people commonly use and get dirty quickly.
Emptying trash bins and segregating wastes should be done daily.
Use the vacuum to remove the dust and dirt noticeable on the office carpets.
Use the sweeper and scoop to get rid of all types of soil and trash on hard floors.
Clean the restroom and toilets as it is common for dirt to collect and heap up.
Spot clean the areas commonly seen by visitors, such as the lounge, entrance, and meeting spaces.
#2: Bare Minimum Tasks
The bare minimum tasks are done every day or at an interval, such as every other day, every two days, twice a week, etc. Some of these areas do not need to be cleaned daily, but you should still clean them after being utilized.
Intricately vacuum all office carpets to remove dust and dirt, even in the narrow corners.
Clean the boss' office thoroughly.
Clean all high-profile areas by polishing floors, wiping glass doors, and even including the outside area of the entrance.
Clean the work areas and tables in case of spills or dirt.
Clean the activity areas.
Dust gradually by working on one area a day.
#3: Periodic Task
Periodic tasks are those that need cleaning monthly, quarterly, yearly, or whenever pieces of furniture are damaged. These are low-maintenance spaces that do not need to be cleaned regularly. Moreover, these tasks require a high amount of effort by numerous people to accomplish.
Wash off the dust from the air condition filters.
Deep clean the furniture, carpets, and ceilings.
Replace horrid carpets and furniture.
Scrub off the balcony or terrace floors. 
Wash or vacuum the curtains (if any).
Final Takeaway
Always remember that being knowledgeable of what you are doing will primarily benefit you and your client. Generating a plan and being hands-on is the key to having a systemized cleaning process. It is easy to manage your time if you first analyze the situation and allocate the appropriate methods to be used in cleaning a particular area.
Moreover, it would help consider what areas should be cleaned daily, frequently, and periodically. With that, you can reduce the work and effort you exert on the job while being excellent with your service. Thus, you can generate more income and be commended for your orderly cleaning.