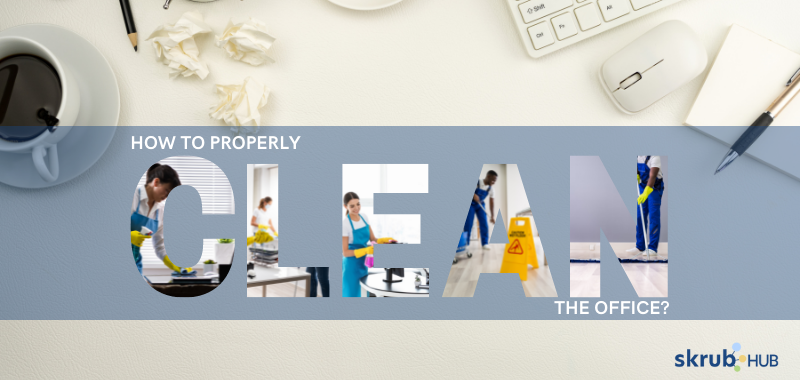 How to Properly Clean The Office
How to Properly Clean the Office
With the proper preparations, you are now equipped to face the cleaning properly. You will find ease in cleaning the office when you prepare. A systemized plan from start to finish is essential to efficiently and continuously do your work without the worry of getting anything wrong. With a space as ample as the office building, it is alright to try out new plans whenever some do not go as planned.
Cleaning is a repetitive and daily job. By repeating, you can familiarize yourself with the routines that work for you and the succession you need to do. Doing the task is also practising the task. As you repeat the exercises, you will eventually be able to do your job perfectly and efficiently and find out the techniques you are comfortable doing.
Analyze your workspace
Before the cleaning process, you should also execute this crucial preparation method. There are different types of furniture and fittings in an office that you will encounter. Therefore, it would be best if you also analyzed how big or small the area is to generate a technique on how to accommodate every space efficiently. Generally, office furniture comprises tables, chairs, cabinets, and the like. Like any room, these offices also have fittings on the wall, such as curtains or blinds, shelves, air-conditioning, vents, etc.
Always remember that, as a cleaner, you should be able to analyze which products to use in cleaning materials. In this way, you will be less susceptible to damage. Depending on the client, damages done by the cleaners should be paid or replaced.
Kinds of Cleaning Methods
There are different kinds of cleaning methods that you can execute routine cleaning or periodically. These methods help you make decisions depending on the area's level of soiling and hazards. Moreover, these options allow you to be innovative and resourceful with the products present as you clean the area.
Routine cleaning involves the standard day-to-day methods that are used to clean a specific area. These methods can be done quickly and do not consume much time. Here are some examples of tasks under routine cleaning:
Dusting
Spot cleaning
Damp and dry wiping
Vacuuming floors
Through these tasks, you can surface clean the area which is required on a daily basis. These outcomes can be acceptable, especially if you are working in a large space that you cannot accommodate in a single day.
In contrast with routine cleaning, periodic cleaning is a measure that can be done only when needed. Some pieces of furniture do not quickly accumulate dust and dirt; thus, periodic cleaning is applied. This allows the cleaner to accommodate spaces that are much more need to be cleaned. Examples of periodic cleaning are the following:
Vacuuming furniture
Polishing furniture
How to clean the office: Detailed Steps
As you learn the proper room assessments and cleaning methods, you can proceed to clean the designated area. Cleaning steps vary depending on the place to be cleaned. Furthermore, here are the general steps on how to clean the office.
Step 1: Remove loose soil
When starting to clean the office, you must first get rid of large debris that can be seen on floors and tables. Pile them up in a trash bag or throw the soil in the trash bins. After that, you should empty all trash bins. Use your microfiber cloth and detergent to wipe off any residue left in every trash bin. Then, replace the bin liners, especially when dirty or damaged. Remember to take precautions when handling rubbish because sharp or toxic materials can be present in those bins.
Step 2: Dusting 
There are a couple of factors that need to be considered when you are on the dusting step. First, you must know which areas should be dusted daily and which areas to be cleaned periodically. In this way, you can allocate work efficiently and dust every soil noticeable. For example, some pieces of furniture that need to be done routinely are cabinets, tables, and chairs. On the other hand, window ledges, shelves, and blinds can be cleaned once or twice a week.
Step 3: Damp wiping
Often, stubborn dirt cannot be contained by plainly dusting. Instead, these soils need to be thoroughly cleaned with the use of certain products. To dampen your cleaning cloth, you can use your detergent and water solution to accumulate every dust particle. The presence of water and the electrostatic features of the microfiber cloth lures dust particles toward them. Spaces that need spot cleaning and damp wiping are tables, chairs, and glass windows. These areas are prone to dust and dirt particles; thus, you should wipe them off with the detergent and microfiber cloth combo.
Step 4: Vacuuming
Vacuuming is done last in the cleaning process, and this allows the remaining dust particle to cease with just the power of a single vacuum. It would help to vacuum around your furniture and fittings to clean these spaces thoroughly. Vacuuming does not harm and damage any furniture types; thus, you can hover your vacuum on simple surfaces that need to be cleaned.
Step 5: Dress the area
Dressing the area means that you need to re-order the office stuff disturbed by your cleaning. Put everything back to where they belong because it is essential to inform them that no furniture is damaged and no product is stolen. Common dressing methods are repositioning the moved chairs, putting flowers on the centre table, straightening up magazines, and fluffing pillows. Make sure that you will leave the office spotless and orderly.
Cleaning aftercare
After you clean, it is essential to store every cleaning product and equipment correctly. It is best recommended to wash and dry off every piece of equipment used to do that. This way, you prevent cross-contamination from happening. Next, put the pieces of equipment in the proper storage area and ensure that chemicals and detergents are appropriately stored in a locked cupboard that is far from the reach of unauthorized people. Lastly, never forget to wash your hands to remove the germs.
It is crucial to keep yourself safe to prevent infections and severe injuries from happening. Storing your cleaning materials in the proper area keeps them away from unapproved people. These people may use the cleaning chemicals for different purposes, so storing them at an adequate temperature and far from humans is crucial.
Final Takeaway
Cleaning the office is indeed what you are paid for. This process is the one being analyzed by your client, which garners the last judgment if you did a great job or not. In an office workplace where everybody is busy, common litres and soils are abundant and should be cleaned. Unfortunately, these people often forget to be orderly when doing their tasks with a busy routine.
As a cleaner, people rely on you to keep their workplace neat and tidy. Although you are paid for it, these people will be thankful for you for cleaning their workspace, which could increase their productivity. Always remember the steps on how to systematically clean the area, from taking out the rubbish to vacuuming the area.