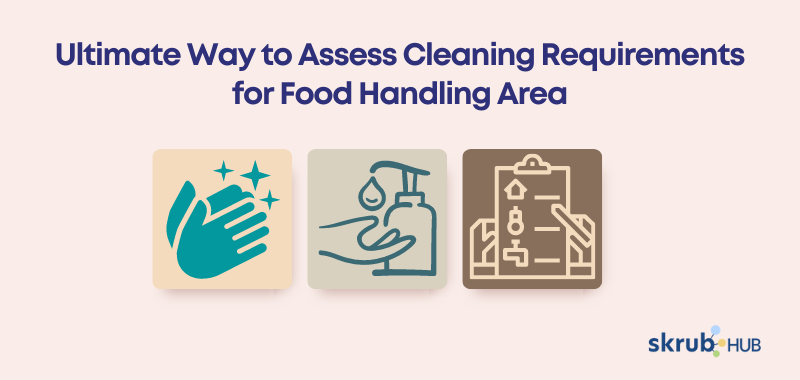 Ultimate Way to Assess Cleaning Requirements for Food Handling Area
Ultimate Way to Assess Cleaning Requirements for Food Handling Area
Having the food handling area clean is very significant in terms of food safety for the workers and the consumers. More people each day are concerned about this matter. How much more that we are experiencing the COVID-19 pandemic. Cleaning nowadays is not only a daily part of life but also an obligation to perform. Cleaners will realize the effects of this once a problem arises. That's why it is best to keep the food handling area clean and sanitize the whole time rather than wiping it with a mere cloth.
Cleaning is vital to every business establishment since it is concerned about the welfare and safety of the people around. Adopting the best cleaning practices is crucial for ensuring that there will be no microbes roaming on each surface inside the food handling area. In most cases, surface infections are somewhat low, according to the Centers for Disease Control and Prevention, but it needs to be thoroughly cleaned to avoid foodborne diseases. Assessing the cleaning requirements beforehand is one step to creating a safe and healthy environment.
Below are the ultimate ways to assess these cleaning requirements so that you will know how to handle things properly in a food handling area and why it is important to do so. Check these things to get an idea of how to prevent diseases from coming.
Steps in Assessing Cleaning Requirements: Detailed Insights
Devising a cleaning program requires consideration of various factors to make it work, including a cleaning schedule, techniques, assignments, workarounds, and assessments. There is a need to assess and evaluate each cleaning requirement to know if it is properly done. The main goal is to get an idea of what and how to improve these particular requirements to make
1. Work, Health, and Safety Hazards Identification
As per WHS Act and Regulations, it is required for every business establishment owner to ensure health and safety among its constituents. This will mitigate risks by eliminating or preventing hazards from happening to the greatest extent. In terms of cleaning the food handling area, this is a must-do since it can affect not only the business but also the employees and customers as well.
How to identify WHS Hazards in a food handling area?
Identifying WHS Hazards in a food handling area must be done step-by-step because a clean and safe workplace does not happen overnight. First, you must consider what may go wrong and the potential implications of every hazard. Then you must do all you can to remove or reduce these hazards associated with your food handling area.
Identifying WHS hazards in the food handling area entails looking for objects and circumstances that might endanger workers. These hazards are often caused by the following components of employment and their interaction:
Management and Work Implementation
Task Assignments and Performance
Physical Environment
Materials, Substances, and Equipment
Below are the steps to find WHS hazards for a food handling area:
Via Inspection
Walking around the food handling area and seeing how operations are done regularly might aid you in foreseeing any events that may happen, whether right or wrong. In addition, examining how food handlers do their job, including utilizing equipment, handling foods, and food preparation might give you a keen eye on how to clean it afterwards. Investigating all parts of the job methodically will determine what cleaning task should be done in every area. At the same time, actual tasks may vary from the procedure outlined in the manual.
If you discover a scenario in which food handlers are at severe or imminent risk, relocate them to a safer area and address the threat as soon as possible. You may see minor issues that need urgent attention, such as clean spills or wiping surfaces as you go about. To guarantee that nothing is overlooked, a checklist might come in handy. You may use this checklist tailored to the food handling area to assist you in identifying and recording hazards.
Via Consultation
Surveys can be done to gather the information that may indicate possible dangers. Inquiring employees about certain issues they have experienced while doing their duties is another way to identify hazards. These experiences come in first hand and will be a great tool to prevent these issues from happening.
Via Other Sources Available
Another way to get valuable information about hazards can be available by seeking advice from third-party constituents, including regulators and safety consults. You can also look at records from the health section and even from safety data sheets and instruction manuals. Reviewing also health records can determine what type of hazards are prominent in the food handling area. For example, if someone has been injured from doing a particular activity, there is a risk that others might be injured as well. Therefore, these accidents must be examined at all costs to identify the danger that causes them.
2. Workplace Maintenance
Eliminating food safety threats by a clean working environment is vital in limiting the development of pathogens and bacteria. Health regulations mandate it, but food establishments also want their customers to know that you have set a standard in terms of hygiene. A cleaner's job is to keep the food handling area clean, following proper hygiene procedures.
According to Medibank Health, absenteeism has been why the Australian economy had lost $7 billion of revenue yearly. Workplace maintenance adds to the overall health of every employee. It can also reduce distractions resulting in better output and work quality. Aside from that, a tidy workplace fosters contentment and promotes staff morale.
Maintaining a clean workplace also extends the life of every piece of equipment and furniture. In addition, clean workplaces seem more dignified and respectable, which might affect your employees' mindsets and motivate them to perform more professionally. This will allow them to concentrate on their work and perform to their best abilities.
3. Proper Sanitizing and Cleaning
Cleaning and sanitizing processes are designed to limit and eradicate microorganisms that may cause foodborne diseases and poisoning. Eliminating dirt and filth from every surface and equipment is known as cleaning. At the same time, sanitation refers to the process of decreasing microbes and pathogens to the safest level. Both have the same goal but have different methods.
Below are some tips for disinfecting and cleaning surfaces in a food handling area:
Putting on disposal gloves
Clean surfaces with water and soap before applying disinfectants.
To ensure safe usage, follow directions on the package of every disinfectant that will be used
Depending on the degree of usage, more regular disinfecting and cleaning are needed when necessary.
Before every usage, surfaces in the food handling area should be cleaned and sanitized thoroughly.
4. Techniques in Cleaning
Here are some cleaning techniques that you can do to maintain and assess cleaning requirements for the food handling area. The cleaning techniques below will differ significantly based on the kind of surface or device being cleaned. Among the general methods are the following:
When cleaning the surfaces of food handling areas, use a neutral detergent to get the cleaning job done. Remember that soils and spills are mostly related to food and beverages, which is the number one concern of cleaners to watch for.
In cleaning floors, cleaners may apply different techniques and certain chemicals to ensure the whole floor area has been cleaned properly. For example, a neutral detergent can be used within the floors of dining rooms while a degreasing chemical is being utilized in kitchen floors to get rid of the oil build-up and greased from cooking and food handling.
Kitchen equipment also requires concentrated degreasers to eliminate heavy soiling from its parts. Again, utmost care should be done to handle these kinds of chemicals because these are considered health hazards when not taken carefully.
Every wall around every corner must be cleaned using a neutral detergent to remove grease build-up from kitchen equipment. In addition, a degreasing chemical may be used to disintegrate these films.
Final Takeaway
Concerning health and safety, food handling contains plenty of hazards that should be appropriately mitigated. Assessing cleaning requirements for food handling areas is a must-do for cleaners to ensure the safety and health of every constituent in the establishment. In addition, it will help collect information on what things are to be done to avoid or prevent problems that may happen.
With that in mind, cleaners should be mindful of doing the right things in order. Communication is also a key to having a successful assessment and implementation. Keeping everything on the right path will lead to a better and safe environment.