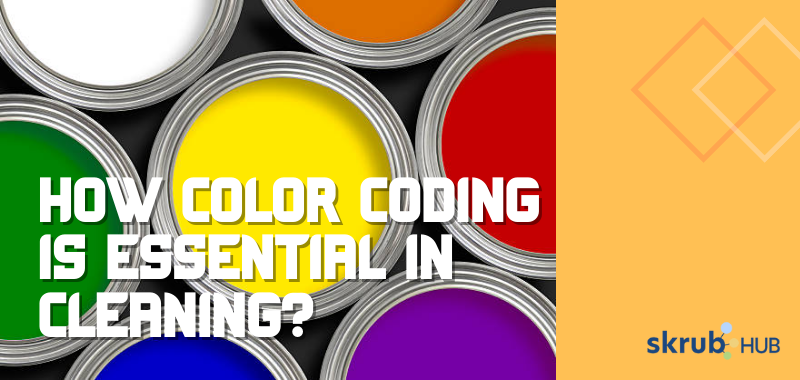 How Color Coding is Essential in Cleaning
How Color Coding is Essential in Cleaning
People may not understand the significance of colours in the world. They might think that colours will always be there without implications in certain aspects of their life. Colours are undoubtedly pleasing to the eyes and give life to numerous things. However, the purpose of colours does not stop there as there is an incredibly more significant purpose of colours, especially in the field of cleaning.
For cleaners, colours give representation through many factors. Colour coding helps you remember the function of most of your equipment used for cleaning. It represents an organization for you to be able to recognize the uses of these cleaning products and equipment immediately. By colour-coding, you can be able to do your job with ease and without being confused about certain things.
Colour coding is present in a lot of equipment for cleaning and waste disposal, and it helps to initiate orderliness within your workplace. Most of these colours are easy to memorize because there are no complex colours. Moreover, the colours used in the colour coding of equipment and products mainly revolve only around the primary and secondary colours.
Colour coding in cleaning equipment
Not all cleaning equipment has colour coding, but the main ones that are frequently used indeed have specific colours that they follow. These mainly used pieces of equipment with colour schemes are your cleaning cloths, mops, and buckets.
With the various germs and microbes in every place you will clean, you should allocate specific equipment to a particular site only. This method will allow you to prevent cross-contamination of germs and bacteria. It also enables you to analyze how to clean these pieces of equipment according to the soil they will accumulate in that particular area.
1.      Red colour coding
The red colour for your pieces of equipment and materials are used for the place with the most bacteria and germs present, which are the bathroom and toilet areas. When you clean the bathroom area, you will encounter soil from bodily substances as well. Therefore, it requires more work to clean than other areas you will be cleaning.
Equipment and products used in these areas are commonly washed thoroughly with the appropriate amount of acids and detergents. This method helps you eradicate all the germs you have accumulated while cleaning the area. In addition, all colour-coded pieces of equipment that are used should be isolated from one another.
2.      Blue colour coding
Equipment and materials with blue colours indicate that they are used for general cleaning. These are typical office areas with a low risk of infection and bacteria. However, you can also use them in high-profile regions to the public, such as corridors, stairs, and lobbies. Cleaning these pieces of equipment does not require extensive disinfectants; however, proper cleaning should always be observed.
3.      Green colour coding
The green-coloured equipment you can use to accommodate kitchens and food preparation areas. While some offices do not have certified kitchens, some of them have break rooms and lunch rooms where you can use these coloured materials. As these areas are one of those that accumulate soil from bodily substances such as saliva and the like, you should always wash these with the appropriate disinfectants in order to clean properly. Most of the time, areas like these are also visited by people, which is why proper cleaning should always be observed.
4.      Yellow colour coding
The yellow-coloured equipment and materials are designated for clinical areas. Most large buildings have clinics that the workers go to whenever they feel certain uneasiness and illness occurring in their bodies. When these areas are cleaned, you will end up with a vast amount of germs and microbes that are potentially infectious to your health. With that said, you must wash this equipment with highly effective disinfectants to eradicate germs. Contrarily, some of the materials in these places are disposed of immediately after usage.
5.      White colour coding
Although these areas are not found in office buildings, operating theatres also have colour coding for the equipment used to clean these areas, which is white. Operating rooms are of utmost essential to clean thoroughly because these areas accumulate soil mainly from bodily tissues and organs that are excreted from the human body. With that, most of these spaces are highly contaminated and need to be disinfected instantly.
There are unique products used to clean these spaces. Most importantly, these areas need to be sterile to adequately accommodate the next patient. The human body should be highly taken care of; thus, the proper cleaning techniques should be applied. You should never forget to use the appropriate personal protective equipment when you encounter places like these that are susceptible to contagion.
Colour coding in the waste disposal
Segregation and recycling are essential in the process of waste disposal for environmental and health purposes. With that said, colour coding in trash bins and waste disposal centres is implemented to aid the goal of segregation. The designated colours for trash bins do not only benefit you, but they also benefit the people who use them because they can be able to segregate this rubbish on their own. Furthermore, having separate bins for waste is crucial as it develops discipline and sustainability within the work area.
Recyclable wastes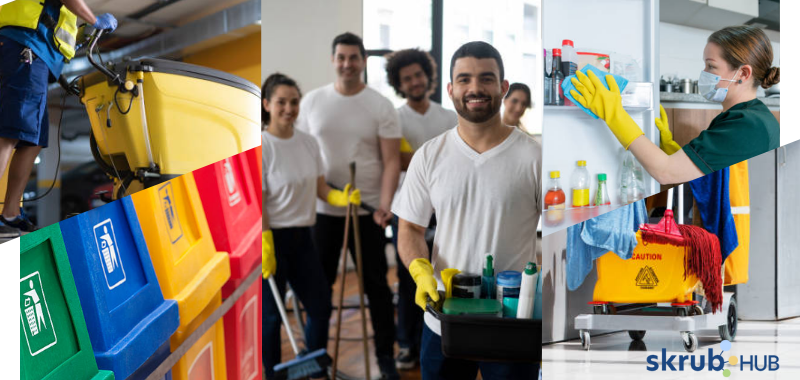 Three colours are associated with recyclable materials. Some of these are present in office buildings as a way to introduce sustainability to the workers. For paper waste and cardboard, a blue trash bin is introduced. The yellow recyclable bin is present for cans and tin or aluminium foils. Lastly, the red trash bin is specifically for plastic bottles or plastic waste. Frequently, there is a green trash bin specifically for glass bottles or glass jars. All these materials are essential to segregate in order to be used and manufactured once again by the recovering facilities.
General wastes
Some office buildings have general trash bins for all types of waste, which are separated into five colours. The blue trash bin is still for recyclable materials, mainly office paper and cardboard. For food waste and organic materials, the green trash bin is allocated. For glassware and sharp materials, the yellow trash bin is used. You should never forget that you should use high-quality rubber gloves to avoid punctures when handling these. Lastly, the red trash bins are for all types of plasticware.
Final Takeaway
Colour coding promotes efficient cleaning and waste disposal in more ways than one. It keeps you, as a cleaner, organized when cleaning and avoids confusion with using the materials that you need to apply to certain areas. In addition, maintaining a specific colour for a particular area helps to prevent the mixing of different microbes and germs that people can encounter in these places.
Moreover, the colours in waste disposal help you and the users and help the garbage personnel and the environment. Segregating these wastes helps the garbage personnel identify which are reusable and recyclable and which are hazardous and toxic when the garbage is already in their facilities. In addition, these methods undoubtedly help the environment by promoting eco-friendliness and reducing waste thrown into landfills.