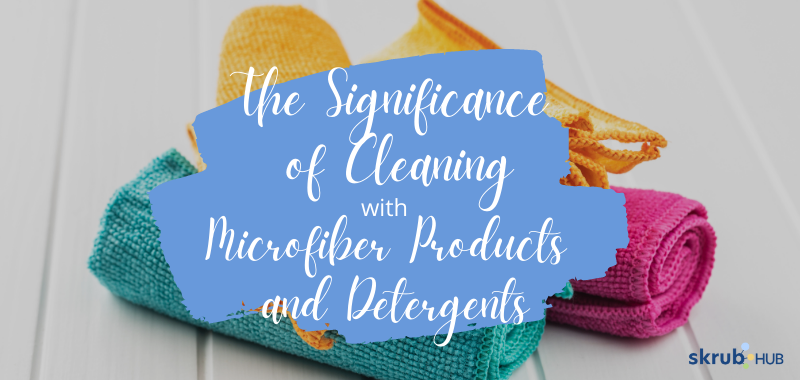 The Significance of Cleaning with Microfiber Products and Detergents
The Significance of Cleaning with Microfiber Products and Detergents
Cleaning is of utmost essential, especially in offices where numerous people are coming in and out of the building every day. However, people also carry different germs and soils that can spread through the area with that in and out. These soils vary in their stubbornness and effect on the surfaces.
Being a cleaner, you should be aware of the types of soils that you will encounter while cleaning the areas. From soils that you can easily maintain to soils that leave a heavy stain, you should always prepare the right equipment and materials to use if you encounter these soil types. Detergents and microfiber cloths are common materials that work wonders in removing soils on specific surfaces.
Importance of Detergents
There are a lot of cleaning solutions in the world. From soapy water to bleach, you can use these products to clean, but their convenience varies. The cleaners' recommended product to use is the ever-famous detergent. Undoubtedly, you can use detergents for every type of cleaning method that you will do, such as mopping, wiping, and laundering.
Unlike soap water, detergents are capable of removing oily substances from the surface. Along with that, detergents also remove soils, toxic contaminants, germs, and stains from the area you are cleaning. With the proper process, you can use this solution to wash dishes and wipe them through tables. However, it would help if you always remembered to properly rinse the surfaces that you used detergent with, as it can be hazardous to living organisms.
How does detergent work?
There are two types of detergents: (1) liquid detergent and (2) powdered detergent. Either way, you are still required to incorporate water when you use any type of detergent. In this way, you can allow the detergent to effervesce and bubble to make it easier for you to clean the surfaces. Warm or hot water is the appropriate temperature to get the detergent working.
Soils can be easily removed by submerging them with detergent. When the dirt is soaked, it allows them to soften, which enables it to be quickly removed from the surface with a couple of scrubs. Proper scrubbing works as a helping hand for the detergent. However, you should never forget that some surfaces are fragile and are easily damaged if scrubbing is done aggressively. With all that said, the warmth of the water, the time allotted for soaking, and the scrubbing help the detergent do its job without difficulty.
Importance of Microfibers
There is a variety of materials used in creating cloths for cleaning. These cloths are typically used because they provide a gentle approach to scrubbing soil on a specific surface. In contrast with sponges and brushes, cleaning cloths are less aggressive and more flexible in reaching narrow surfaces. A particular type of cloth widely used for cleaning is the microfiber cloth.
With the synthetic fibres in microfiber cloths, you can rely on its durability to clean whatever area you need to clean. In addition, you can remove dust, soil, and stains by using microfiber cleaning cloths. Alongside detergent, combining these two products will save you much time while being efficient in the cleaning process.
How do microfibers work?
Microfibers are made from synthetic materials such as polyester and polyamide. These materials are used to create millions of tiny "V" wedges used to collect dirt and soil. In addition, microfiber cleaning cloths are also self-absorbent, and you can let them hold water six times heavier than it.
The tiny strands of the microfiber cleaning cloth help scoop soil and dirt rather than just pushing it away. You can also notice that when you wipe these soils, they do not leave any streaks that are stubborn to remove. Moreover, the cloth polyester generates static electricity that serves as a magnet to attract dust to the microfibers.
Besides microfiber cleaning cloths, other types of microfiber products are available on the market. Microfiber mops are available in two varieties: the typical flat microfiber and the string microfiber mops. Similar to the mops, the microfiber cleaning slippers also have the same structure and are used to clean alongside the microfiber mops.
How to clean with microfiber and detergent?
To improve your cleaning skills, it is recommended that you know how to utilize and mix and match your equipment and products. Microfiber products with detergents are the best techniques to work efficiently. Here are some tips and steps to familiarize yourself with as you clean with microfiber and detergent.
Step 1: Know your soil type
Unfortunately, not all soils are the same. You can clean some soils in one swipe, while others require more effort to remove. Commonly, there are two types of soils: loose soils and in-ground soils, and these two vary by their cleaning processes and materials to be used.
Loose soils include filth that you can easily clean, such as typical litter, dust, and footprints. Moreover, debris can be cleaned through regular sweeping and picking up trash. On the other hand, you can clean the dust and dirt particles by using soapy water, detergent, and microfiber.
Some need more equipment to remove, and these are called in-ground soils. In-ground soils are stubborn stains, oils and greases, scratches, and spills that mark your surface. Furthermore, these soils require extra effort and more time to be removed.
Step 2: Prepare your detergent
You can prepare your detergent solution depending on the types of soil that you are encountering. Firstly, if you are to remove dirt that is still fresh and damp with a wet microfiber with a bit of detergent. The situation is quite the opposite with dried soils. Dried soils need to be soaked in a detergent solution mixed with hot or warm water. In this way, you can effortlessly clean the dirt while unstiffening.
Step 3: Utilize different types of microfibers
With the large spaces in the office, it can be tough to assist every spot with just a single microfiber cloth. If you are to clean and ample space, you should use the microfiber mop and slippers to reach every area effectively and lessen the time of work. Moreover, if you are to clean narrow spaces and edges. It would be best to use microfiber cleaning cloths to leave a clear finish.
Final Takeaway
Being a cleaner, your client will expect you to make the office squeaky clean, so you should utilize the appropriate products and equipment for the action. Keep in mind that you will benefit from investing in good quality cleaning products. In addition, you should choose cleaning products that you can easily maintain and that would last you a long time.
Detergents and microfiber cleaning cloths are not only practical but also time-efficient. You can also find these materials everywhere, such as in grocery stores and hardware stores. Detergents vary in type, but all work through the same process with the help of microfiber cleaning products. Remember, cleaners must be innovative and resourceful in the products they own. Thus, it would help if you always tried to use good quality products that work well together.