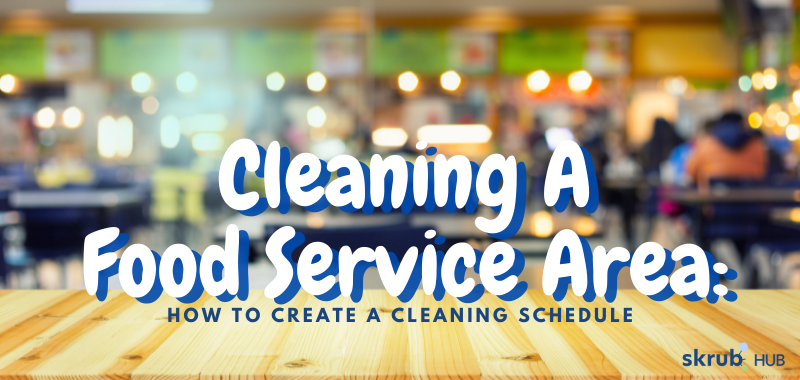 Cleaning a Food Service Area: How to Create a Cleaning Schedule
Cleaning a Food Service Area: How to Create a Cleaning Schedule
Cleaning is an important aspect of maintaining a food service area. Customers may get ill if the food service area is not cleaned correctly. Bugs may enter and infest the whole establishment, and other variety of other unfavourable outcomes might occur in the long run. In some cases, cleaning one part of the food service area may be overlooked accidentally and unknowingly, it can cause problems.
One way to prevent infestation and health issues around the food service area is to have a cleaning program. As a cleaner, you should learn to handle cleaning jobs as professionally as possible because that is your responsibility – to clean! Therefore, it is important to design a cleaning program to plan the entire cleaning process. Also, it will assist you in cleaning the whole premises and organising things successfully.
Here's how to plan accordingly:
Cleaning a Food Service Area: Detailed Guide Creating a Cleaning Schedule
Create a Cleaning Schedule
A cleaning schedule may assist you in determining what should be cleaned, when it should be cleaned, how it should be cleaned, and who should clean it. Some items, such as food handling tools and table surfaces, should be disinfected and sanitised regularly. Other areas around a food service area may not require as much care, but they should not be forgotten.
A cleaning schedule helps you to keep track of everything concerning all of the cleaning processes that will take place in a food service area. You may make it just by strolling around and noting everything that may need a thorough cleaning.
According to the Australia New Zealand Food Standards Code, laws and regulations outline how often equipment and surface should be cleaned. These rules assist in defining what should be done in cleaning a food service area. You can create a cleaning plan based on these guidelines.
Factors in Making A Cleaning Schedule
Take a look at how cleaning is presently done in the food service area. Then, gather as much information as possible to pinpoint the necessary things to be done when cleaning the premises.
Note all equipment, tools, and surfaces that need cleaning in the food service area. As such, you can also consider how frequently these materials are being used daily.
Determine the amount of time and abilities required for each cleaning activity in the food service area. For example, there are times when more than two people can do a task more effectively, and others may need a cleaning service. Specify also how often objects in the food service area should be cleaned.
What should be included in a cleaning schedule?
In creating a cleaning schedule, you should consider the abovementioned factors in making a cleaning schedule. In addition, the schedule should be grouped by specific areas and include an inventory list of objects to be cleaned. Specify also how often each material needs to be cleaned. Finally, each cleaning duty should consist of short explanations that explain how to complete the task and who is accountable for it. Below are things to be included in the schedule:
What should be cleaned? – A cleaning schedule should be organised logically so that nothing gets overlooked. For example, list all cleaning tasks in one location or list tasks in the order they should be done. The timetable should be adaptable and flexible enough to allow for alteration if necessary.
When should it be cleaned? – If cleaners are cleaning in food contact surface areas, they should clean as they go. As cleaners, they are responsible for sanitising and disinfecting everything after their shifts. Major cleaning activities, such as cleaning ovens, should be performed only after closing the establishment.
How should it be cleaned? – All food handling stations in a food service area should have clearly defined guidelines. When cleaning equipment, a cleaner should always follow the instruction manual from the manufacturer.
Who should clean it? – All cleaning duties and responsibilities should be designated to a specific cleaner. Generally, cleaners should clean their assigned stations and cycle other cleaning tasks according to the cleaning schedule when cleaning a food service area.
Sample Cleaning Schedule
| | | | | |
| --- | --- | --- | --- | --- |
| Item | What to clean? | When to clean? | How to clean? | Who should clean? |
| Table Surfaces | Wipe up spills | Immediately | Cloth, bucket, water, detergent | Cleaner A |
| Floors | Scrub | Daily, at closing | Brush, sponge, bucket, detergent | Cleaner B |
Measuring Performance
To guarantee cleaning standards in cleaning a food service area, it should be continually checked. Random inspections should be performed regularly to ensure that the cleaning schedule is followed. Most cleaning jobs may be verified visually or thoroughly checked in every designated area.
Monitor Cleaning Program
A cleaning program may not only assist you in tracking and analysing trends, but it can also give you a baseline to benchmark to continually monitor and meet new cleaning targets. It also assists in compliance indications to every cleaner in the program. It can also guarantee that cleaning tasks are accomplished according to the given standards and work monitoring schedules. Therefore, the plan should include the daily and the weekly responsibilities of every cleaner.
Aside from that, cleaning standards should be monitored in a cleaning program and audited regularly. The goal should achieve continual improvement by identifying any issues in a specific spot in a food service area. A daily stroll around the food service area to notice the overall degree of cleanliness should be done and included in routine quality inspections. It should be then seen that the cleanliness levels are visually adequate, and the cleaning requirements are fulfilled. If discrepancies are found in a particular area, they should be handled by the cleaner and remedied as soon as possible. These are summarised as follows:
During staff meetings, soliciting employee feedback on the program. Inquire if they have any recommendations for improving the program and whether they need more equipment, materials, people, time, or training to complete cleaning tasks.
Conduction on-the-spot inspections.
Going through the cleaning schedule whenever there is a change in methods or equipment. Check that the cleaning software takes into account any modifications.
Ensuring that regular cleaning protocols are followed.
Is a cleaning schedule important?
Cleaning a food service area might seem absolutely chaotic if you don't have a strategy in place. Whatever form of cleaning schedule you wind up with, the end result should know what duties need to be completed and when they will be accomplished. This sense of order and organisation will instantly alleviate some of the tension associated with cleaning.
Aside from that, without a set plan and routine, it is easy to neglect something that needs to be done or not give a job the time it requires. No one likes the sense of rushing at the last minute, and it is simple to avoid this by creating a calendar to help you focus.
Final Takeaway
To avoid food contamination and health-related issues, a food service area must be kept clean, with no buildup of rubbish, food waste, grime, and other visual debris. Thus, devising a cleaning program is essential to help guarantee that all of the parts in the foodservice area are clean at all times and no particular area has been ignored.
A cleaning plan is an important aspect of a cleaner's career because it creates structure and order, thus preventing work from piling up. It can stimulate involvement from other cleaners as well and boost their efficiency. A solid strategy and an ordered routine are beneficial in many parts of ones cleaning career. Therefore, sticking to a cleaning schedule will undoubtedly lead to success.