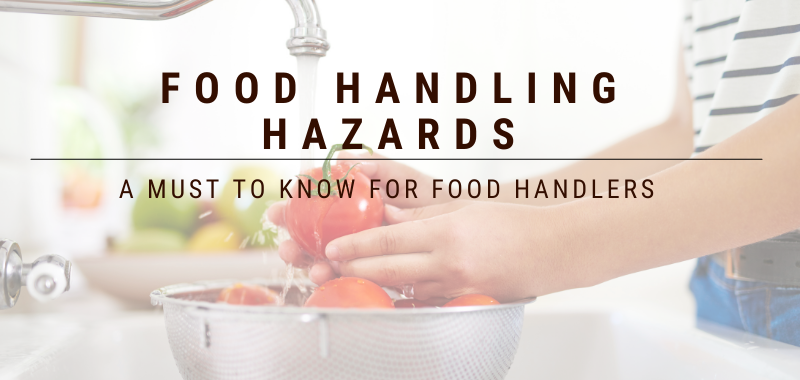 Food Handling Hazards – A Must Know for Food Handlers
Principles of Handling Food Hazards – A Must To Know For Food Handlers
One of the most common public health issues we encounter daily is food-borne diseases (FBDs). According to Whitworth (2021), in Australia alone, a food-borne disease known as salmonella has dominated and been identified to be responsible for the outbreaks in 2016. It was also accounted that 73 of these incidents were caused by the salmonella disease, as noted by the Communicable Diseases Intelligence of the Australian Government.
The hazard that a food-borne disease can cause may arise at any point along with the food handling premises. Regardless of its origin, once the infected food reaches the consumer, it will influence public health and inflict serious harm to food establishments. These incidents may result in a loss of trust and the closure of the food establishment itself.
Fortunately, there are procedures and principles to avoid food contamination. These are relatively simple, and anybody who handles food may apply them by following basic standards for safe food handling. Do you want to learn more about food safety and how to handle food hazards? Read below.
What is Food Handling?
Food handling is a kind of service that we all do regularly, regardless of the career or whether a chef, housewife, or worker in a food processing company. As a result, many individuals work hard to guarantee that every food we eat regularly is appropriately safe and hygienic to reduce the risk of FBDs.
That is why cleaning food handling areas is crucial because these places must be well-maintained and cleaned, which means free of food hazards such as microorganisms and bacteria that can cause FBDs. In addition, dangerous bacteria may thrive and contaminate foods if the food handling area is not taken care of. Therefore, it should and always have a high degree of cleanliness.
Who is a food handler?
According to the General Principles of Food Hygiene by the International Food Standards (2003), a food handler prepares food directly to clients or customers. They also handle the equipment and utensils used to handle and serve foods. Food handlers have one specific job: to meet food hygiene requirements at all costs.
The contribution of food handlers in our society is crucial because their kind of work or job is very important to the health aspects of the consumers, the community, establishments, and their own case.
Why is food handling necessary?
Food handling is essential because it guarantees that the food you touch and prepare is safe to consume. In addition, customers may get sick with FBDs if food handling and standards are not met. As a result, food handling is critical to preserve customers' health.
Moreover, if you are a restaurant owner, your reputation is heavily influenced by food handling and safety. Implementing excellent and safe procedures can ensure that you are doing all possible ways to prevent an outbreak. Moreover, food handling is a commitment that you can't even skip because it is your obligation to achieve the best practices for the health and safety of your consumers.
What are food hazards?
Two principles serve as the foundation for safe food handling procedures in a workplace. One is that you are responsible for avoiding food contamination or FBDs. Second is, you are required to control bacteria and diseases from developing in food preparation. That's why you need to learn about the potential food hazards that can be found in your workplace so that no food poisoning will occur.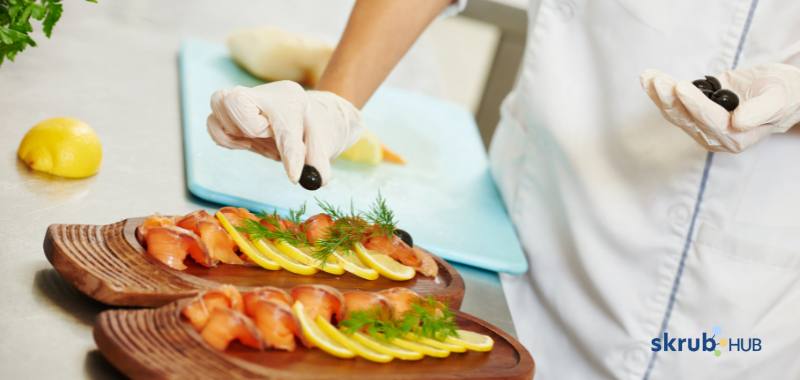 Physical, chemical, and biological risks are the three categories of dangers that may contaminate food and endanger public health. They may be introduced inadvertently, deliberately, or maliciously.
Physical Hazards
Physical hazards refer to the presence of foreign materials in foods. These dangers may cause harm if infected foods are consumed.
Examples:
Foreign objects such as fragments of wood or glass
Food components such as pieces of bones, fruit peeling, and seeds
Chemical Hazards
Chemical hazards arise when chemical agents are present in food at dangerous amounts to humans. Most chemical contaminations occur on surfaces and utensils because of their food handling compounds.
Examples:
Industrial contaminants (mercury, lead, and dioxins)
Natural toxic substances (mycotoxins and marine biotoxins)
Agricultural chemical products (pesticides, disinfectants, fertilizers)
Biological Hazards
Biological hazards are actually microorganisms that thrive everywhere. They are tiny entities present in everything you see and are the greatest threats to food handling. They are categorized as yeasts, viruses, bacteria, molds, and parasites. They differ only on their form, size, and mode of life. Moreover, these tiny organisms can reproduce rapidly in a matter of hours resulting in food contamination.
Examples:
Zoonotic agents (Salmonella spp)
Pathogens (Trichinella, Toxoplasma, and Yersinia enterocolotica)
Other microorganisms (Escherichia coli, Shigella, Vibrio vulnificus)
How can these hazards contaminate food?
Physical items, chemical agents, and microorganisms may be transmitted to food by improper handling methods, inadequate cleaning practices, or other food sources. These are distinguished by the type of hazard it comes from.
Physical contamination
Physical things in food provide a choking threat and mostly introduce biological contamination. When a physical item penetrates food during food handling and preparation, this is referred to as physical contamination. Even if the physical object is unlikely to do damage to your customer, discovering it may be quite upsetting. Physical contamination may occur from a variety of causes, including:
Glass shards from shattered containers
Dust from the kitchen premises.
Metal shavings from kitchen equipment.
A Band-aid falling into food.
Infestation of pests.
Dirt from fruit peelings and vegetables.
Hairs and fingernails.
Ways to avoid physical contamination:
Wear hairnets always or tie your hair on your back.
Use coloured bandages to be noticed instantly if it slips off.
Do not wear jewellery.
Replace damaged dishwares, kitchen utensils, and glassware.
Properly wash vegetables and fruits.
Implement scheduled pest prevention and control techniques.
Chemical contamination
When food comes into touch with or creates hazardous chemicals, it may result in food poisoning. These are primarily caused by the presence of toxic substances in food, whether it comes naturally or man-made.
There are several chemical substances to contaminate food in a food handling area. Food handlers may unintentionally introduce chemical contamination if:
chemicals and other cleaning products are not properly stored
using detergents that the manufacturer does not even recommend
no rinsing of kitchen utensils after washing
improper washing of vegetables and fruits
using low-quality material kitchen equipment and utensils
improper usage of pest control
Ways to avoid chemical contamination:
always ensure to remove chemical residue at all times on surfaces.
separately store chemicals and label them properly
use only the designated chemical when required
be careful in using chemical products
always read the instruction manual first before using any chemical
Biological Contamination
Humans, insects, rodents, and microorganisms all create biological matter. When live organisms infect food, this is referred to as biological contamination. And when it comes to contact with food, it will create FBDs and food poisoning.
Your food handling techniques should guarantee no food safety risks introduced into the meal. Bacteria may infect food due to poor handling procedures. In addition, humans, animals, or pests may cause bacterial contamination.
Here are some examples of how this may happen:
sneezing, coughing, and poor personal hygiene
unsupervised self-service buffets
improper waste removal and cleaning
uncovered foods
poor storage handling
pets strolling in the kitchen premises
Ways to avoid biological contamination:
always keep high-risk foods to a safe temperature level
clean and sanitize all surfaces and kitchen equipment regularly
maintain excellent personal hygiene
carefully and adequately handle foods of different kinds
keep the premises' general hygiene and sanitation in excellent working order
Cross-contamination
Cross-contamination is the unintentional transfer of pollutants from one surface or material to another, frequently due to poor handling techniques. It refers to the transmission of contaminants from a surface, item, or person to food and is most often associated with biological contamination.
Cross-contamination in the food handling area is often caused by:
food handlers prepare food daily
improper food storage and handling methods
improper waste handling and cleaning
Ways to avoid biological contamination:
abide with food regulation and safety
handle wastes properly
maintain personal hygiene at all times
do not use the same equipment in cooking different foods
prepare food accordingly and adequately
wash hands thoroughly when preparing foods
Final Thoughts
Food handling is not as easy as others say because you need the proper knowledge to enable and implement excellent food handling practices. The reason is that public health will have serious implications if food handling isn't done correctly.
In your best interest, it is your legal obligation to take all reasonable precautions to safeguard the public from food hazards. Education and training are the most effective ways to avoid food contaminations and assure food safety. A fully qualified food handler should realize what they must do to manage food hazards.