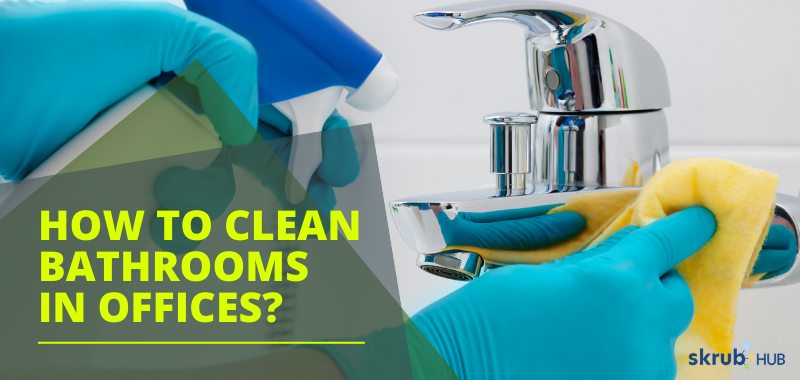 How to Clean Bathrooms in Offices
How To Clean Bathrooms in Offices
The main purpose of cleaning is to provide a safe and hygienic space for everybody. Aside from the visually-pleasing impact of a clean room, knowing that you are in a space with less dirt has a great impact. Moreover, every spot in the office should be cleaned due to the vast amount of people that go in and out of the facility every day.
One of the very used rooms in a building is the bathroom. It is human nature to utilize the toilet for waste processes or simply use the bathroom to freshen up. In addition, bathrooms are essential for office workers to take a quick break before going back to work. However, with this common and frequent use of bathrooms, it is without a doubt that this space is very dirty.
A cleaner needs a bathroom for work. This is where you get your water supply essential for cleaning purposes. Furthermore, this place is where you spend more time because it needs to be as spotless as possible. With that, here are some techniques that you can apply while cleaning the bathroom.
Why should a bathroom be cleaned thoroughly?
Many things happen in the bathroom, such as taking a piss, a dump, or simply retouching your makeup. Nonetheless, some germs and microbes live in any space in that area. These microbes come from the people who use them – may it be through the touching surface, through talking, or through air-borne molecules. Most microbes that are present in the bathroom are harmful and can cause the spread of certain diseases.
Even though you cannot see microbes with your naked eye, it is safe to assume that they are everywhere. Microbes enter the human body by finding possible entrances such as inhaling, intaking, touching contaminated surfaces, and more. However, the entryways that are truly harmful to humans are through entering their cuts or injuries through contaminated materials.
Cleaning the bathroom: A step-by-step procedure
Cleaning office bathrooms take a lot of work, but it does not necessarily mean that you have to eradicate all the germs and microbes present. When cleaning the bathroom, what matters is that you reduce the possibility of infections through your normal cleaning process.
Step 1: Analyze the bathroom area.
You should always assess what type of dirt and mess you are cleaning. Analyze the bathroom area first and acknowledge the different types of soil that you see. Always make sure that you know the capacity and the amount of product you need before cleaning the bathroom. It is best to be prepared and knowledgeable before taking another step.
It is essential to clean the bathroom during working hours when the workers are too busy to use them. Moreover, it is not recommended to clean the bathroom areas during breaks, such as lunchtime, as many people will tend to use it. However, to make sure that no one enters the comfort room while you are cleaning it, put up the "closed for cleaning sign." You can clean the bathroom for a maximum time of 10 minutes before re-opening to the public.
Step 2: Prepare your chemicals.
Bathrooms require extensive cleaning compared to other rooms in the building. However, office bathroom cleaning is not as extensive as cleaning hospital bathrooms which require heavy disinfecting. As you assess the bathrooms, you now know what types of problems you will face.
Stains, moulds, and discolouration are some of the common hygiene troubles that you need to eradicate as you clean the bathroom. There are two types of stains which are: (1) water stains which can be removed with the use of acid detergents, and (2) rust stains which are removed by stronger acids. On the other hand, you can eradicate moulds by using chlorine bleach or a mildly acid detergent for a safer option. Lastly, floor detergents are used for the overall cleaning of floors to remove soil.
It is always important to be knowledgeable of the chemicals that you apply. Do not mix these chemicals because they will cause a hazard to you and the environment. For safety purposes, do not forget to wear the proper protective equipment to avoid damage to your skin and health, especially when handling strong chemicals.
Step 3: Clean the most used facility in the bathroom.
There are two most used bathroom facilities, which are the toilets for women and the urinals for men. Both of them are as equally dirty as the other, so full cleaning must be applied. In addition, toilets have more surfaces to clean, which may take up more time than urinals.
Firstly, you must pour toilet bowl cleaner or acid detergent into each toilet and urinal. While you let these chemicals do their work, make sure that you refill the consumables in the bathroom, such as toilet paper, and clean the holders as well. Next, for women's bathrooms, spot cleans the toilet doors, while for men's bathrooms, you must spot clean the partitions. After that, clean the outsides of the toilet or urinal from the cleanest to the dirtiest parts. Now, scrub the inside of the toilet or urinal and the underside of the rims in a circular motion. Lastly, flush the toilet to remove the chemicals.
Step 4: Clean the common areas.
After using the toilets and urinals, people use the sinks to wash their hands and sanitize. Some people retouch or freshen up before leaving the bathroom. While this happens, microbes and germs also roam around these areas, which you need to clean.
To clean these areas, you can start by refilling the consumables like paper towels and liquid soaps. Then clean the mirror with the use of window cleaners up to every edge. Along with that, clean the sinks using detergent and clean the counter as well. Finally, it is important to heavily clean surfaces that come into contact with the people, such as taps, soap dispensers, towel dispensers, hand dryers, toilet flush buttons, and door handles.
Step 5: Dress the area
It is best recommended to double-check if you did all your duty correctly. Clean all areas, especially those that are commonly missed, such as the mirror's edges, the underside of toilet bowls, taps, walls, and more. Leaving a spotless result will surely impress your client.
Step 6: Mop the floors
After you have accomplished all of the above, the last thing to do is to mop the area. Make sure to start from the area farthest from the door and make your way to exit. With this process, you can avoid leaving footprints on the floor. Also, do not use a drenched mop so that the floor can dry quickly.
Final Takeaway
As a cleaner, you must be aware that the bathroom is the dirtiest area that you have to clean inside the office building. Contamination by microbes and germs is abundant in this area which is why you need heavy cleaning. It is very important to ensure that all spots are clean so that microbes and germs will not penetrate and reproduce.
Always remember that there are harmful materials inside the bathroom. You should also take care of yourself and wear the proper personal protective equipment to ensure your safety when facing these microbes. Remember, when you clean the bathroom, you are also keeping the people from harm and diseases that a dirty bathroom can cause.