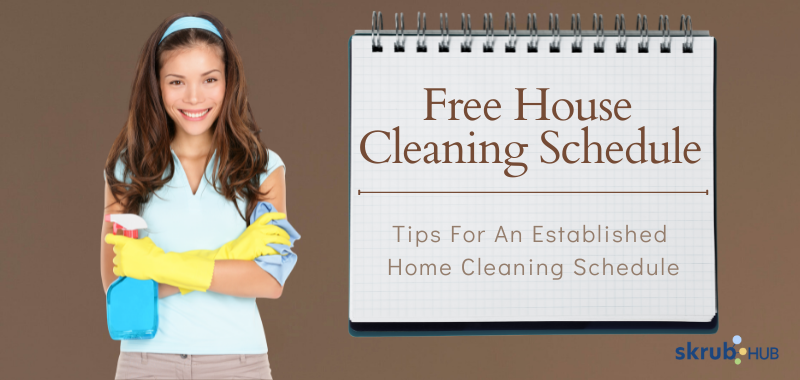 Free House Cleaning Schedule – Tips for an Established Home Cleaning Schedule
Free House Cleaning Schedule – Tips For An Established Home Cleaning Schedule
Cleaning is part of the daily routine that one should not take for granted. However, it seems a bit frustrating to actually do that from scratch. The cleaning part is doable, but the way a person organizes is the kickstarter.
If you want to enhance your home's cleaning routine, follow an established home schedule that works for you. There are a lot of elements that should be considered in making one maintain your home clean. Here are some important tips that you need to know to make things run according to your needs and lifestyle.
Why is a cleaning schedule important?
The goal of a cleaning schedule is to get the most tasks done with the least amount of work. Routine cleaning will prevent filth and mess from accumulating on any surface and equipment inside the house. In the long run, this will save money on replacement and maintenance costs and time spent on thorough cleaning.
Cleaning Schedule Tips For An Established Home
Tip # 1 – Set things straight with all the cleaning tasks
One important consideration to establish a home cleaning schedule is to jot down all the chores separately to organize a home cleaning routine that works for you. Keep in mind that it works great if you can follow it according to how you want it and promptly whenever needed.
It is a simple step, but it is also the most crucial in terms of the way in doing things. Make a list of the cleaning tasks that need to be fulfilled and accomplished as you go about your home. Take your time to decide what needs to be done and which part of your home needs proper cleaning.
Having a checklist for every area in your home will make things easy, and you can familiarize it wholeheartedly. Perform a walkthrough about deciding how to outline the tasks and make a list of anything that needs a proper clean-up. The next thing is to set how often to clean each task based on the specific demands of your home.
Below is a sample of the chores that need to be done and how often to do them.
| | |
| --- | --- |
| Tasks | Frequency |
| Wipe kitchen surfaces | Daily |
| Do the dishes | Daily |
| Sweep the floor | Daily |
| Mop the floor | Weekly |
| Dispose of trash | Weekly |
| Equipment maintenance | Monthly |
| Organizing cabinets | Monthly |
| Cleaning garage | Monthly |
Tip # 2: Choose your priority
Prioritizing cleaning tasks will benefit your home in the long run. Each task has its own designation on how to clean it up, when to do it, how hard it can be, or how easy it can be done. This is where creating a cleaning schedule might get difficult. Consideration of which sections in your home is one factor in getting a glimpse of how clean it can be. This is critical when considering how often you should clean your property.
It really depends upon which area you will do first, whether you want to stay longer in the kitchen, sala, or bathroom. For instance, if you want to spend the whole day in your bedroom, it may be the most crucial space to keep clean. If you entertain visitors too often, your sala should be on the top list. But if you love cooking, the kitchen will be your safe haven; thus, prioritizing it is your number one choice.
Keep this in mind when you make a cleaning schedule because this is very vital to how you set things straight up from the get-go. It may not be feasible to clean every section of your house regularly, and that's true since most parents are working the whole day and can't manage to do the cleaning tasks in one sweep. Just select what's most important to you and proceed from there.
Tip # 3: How well do you clean?
There are many approaches to following a cleaning schedule, and it varies on how well you clean it. We have our ways to clean stuff, and we know for sure that it is the best way to do it.
Suppose that you are a daily cleaner sort of person. The commitment to clean the house every day is a unique trait that others do not have. You have the willpower to do things accordingly because you love doing it, and it makes you fulfilled by cleaning it daily. In such a situation, set aside a particular time each day to do a basic cleaning task to prevent the clutter from building up.
Setting targets and goals weekly might do things right for you if you have a busy schedule since cleaning daily doesn't suit you best. For instance, you want a specific area like the kitchen to be cleaned on Sundays since that will be the day that you are free.
However, if you do binge cleaning, you can set it up according to what should be done in the present. This works nicely if you are a thorough cleaner and wants to clean an area in just a matter of time.
Tip # 4: Finalize cleaning schedule
Now that you have set things up and prepared everything, creating a cleaning schedule is a piece of cake. Go through each task and think properly if it can be done on a specified duration.
This can include arranging a brief cleaning in each main area inside your home daily for everyday cleaning. For example, setting every hour with a specific location to maximize time. This can be supplemented with weekly and monthly cleaning duties, including a thorough and major clean-up.
Dividing a cleaning schedule daily might be worth it if you prefer solo. You can devote each day to a particular area. In an instance, you might want to designate the kitchen on Fridays and the bathroom on Wednesday. Having this as a work pattern will be easy to do once you have become familiar with it.
Tip # 5: Familiarize and turn it into a routine
Once you have finalized your cleaning schedule, all you have to do next is follow and keep it according to what is stated. Stick to your goals and aims to do each cleaning task head-on. Make it a habit to do the cleaning task so that you won't forget the feeling of being clean. Treat it as an important matter to deal with so that it won't be bothersome and you can enjoy it without stress.
Above all, don't be too harsh on yourself. Creating an excellent cleaning regimen requires time and patience. Put up the effort until you discover what works best for you. Experiment with many approaches until you find the one that works best for you. You may finally establish a cleaning routine that works for you by including cleaning into your normal schedule.
 Conclusion
You have your way of doing things, and each one of us has its routines to follow. It might be hard for others to copy your own and harder if you copy others. Setting it up according to your preference is very important to make things as easy as possible.
The cleaning schedule that you generate will be your lifetime mark to make a clean and livable home for your and all your family members. It has the potential to make cleaning much simpler, and putting it in your own makes it worthwhile to do. Don't miss your time to clean every mess because time can't be rewound.