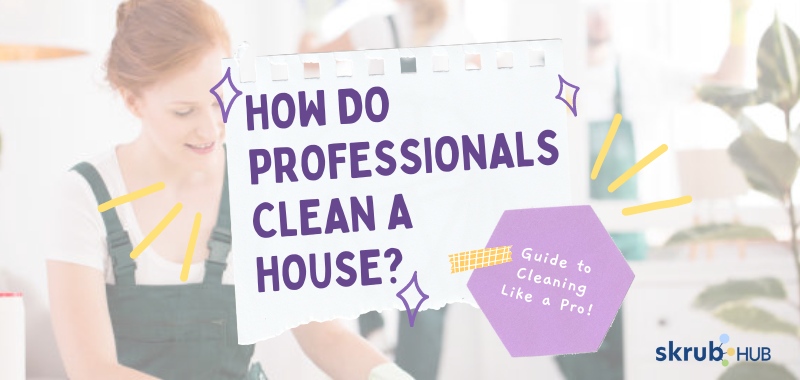 How Do Professionals Clean A House – Guide to Cleaning Like a Pro!
How Do Professionals Clean A House? – Guide to Cleaning Like a Pro!
Commonly, a home is one's safe spot to enjoy and relax. It is where you can find comfort after a long day's work and feel the company of your loved ones. Therefore, you can consider having a clean home a blessing because it makes you feel snug and cozy just by looking at it. However, a clean house should not be a chore but a bare minimum everyone should follow.
Some people hire professional cleaners or maids to tidy up their houses. But, on the other hand, some do not want their home touched by other people. Moreover, some people do not have the fortune to get their houses cleaned by other people. But cleaning should not be a complex task that you can do on your own or with the help of other family members.
Standard cleaning and professional cleaning only have the slightest differences. You just have to acquire the suitable materials and products needed to clean every soil in your home. Furthermore, you can learn the skills you need to clean professionally along the way. With your luck, here are the steps and tips that can help you clean like a professional!
What are the traits that a professional cleaner has?
Professional cleaners primarily run a business that showcases their skills. With their experiences with clients, cleaners are trained and taught how to handle situations. Each client has a different house setting. Some may have a three-story house, while some prefer a bungalow or apartment. Moreover, some of them might be struggling with various problems (a reason why they cannot clean), while some just need someone else to tidy up their homes.
A professional is not judgmental of their clients' house setting. You are there to clean and not to set criteria for every house you encounter. Additionally, you should be organised and well-planned. Fix a schedule and a to-do list of every room you will clean and how to clean it. Next, you should be a fast thinker and have effective time management. Finally, whether you are cleaning a huge house or a small one, make sure to clean thoroughly and give the same professional approach to each one.
A Professional's tool and supply list
When you clean a house, you should be well-prepared and equipped with all the needed materials and products. Of course, some materials may not be required at all times, but it is better to be ready than to panic at the moment. Likewise, some materials can serve a double purpose in some areas, especially those cleaning products. Hence, it is better to be innovative and create a checklist of the materials you will need.
#1: Sponge, cotton rags, microfiber cloths, and steel wool
To remove soils in various areas, you will need these small materials that can work wonders in your space. You can use sponges soaked in soapy water or cleaning solutions to aid surfaces that need scrubbing. Cotton rags and microfiber cloths can do the same and can double as drying materials. Lastly, steel wool scrubbers can help you scrub off stubborn soils that harden over time.
#2: Duster, broom, dustpan, vacuum cleaner
For areas that accumulate a lot of dust, you can utilise specialised products for them. For example, dusters remove dust from high areas or tables, windowsills, counters, etc. Then, when you are done with those areas, you can use a broom to brush away the dust from the floor and use a dustpan to gather all of it. Yet, if you have the fortune of a vacuum cleaner, it will be more convenient to remove dust from the areas you are cleaning.
#3: Cleaning detergents and acids
Detergents mixed with water are generally used to clean areas because it is not too sensitive and can accommodate areas made with different materials. On the other hand, cleaning acids such as bleach and hydrochloric acids are chemicals used to clean areas prone to microbes and germs. You can use these chemicals to remove rust, moulds, and stains that simple detergents cannot remove.
#4: Lawnmower and steamers
Lawnmowers are used if you accommodate areas with lawns and tall grass that need cutting. In addition, steamers are extra equipment that you can use to give off a neat dressing. Nevertheless, these materials are just extras and are not mandatory.
How do Professionals Clean a House: A Step-by-step guide
You are now ready to clean like a professional with the materials and traits you have learned. Here are some steps that you can follow to do so:
Step 1: Clean the wet areas first
Wet areas such as kitchens and bathrooms need more cleaning time and heavy products. Microbes and germs are common in this area mainly because of their activities. Scrubbing material and cleaning acids are widely used in these areas to remove rust, stains, and moulds that are commonly generated.
Kitchens and bathrooms are also standard where waste disposal is at most, so you have to remove and properly dispose of the rubbish. Use different sponges and microfiber cloths in these areas to avoid cross-contamination to other sites.
Step 2: Get dusting
Dust and soil are most commonly checked whenever you are done cleaning, so it is essential to spotlessly clean the area. Use your dusters, brooms, and dampened microfiber cloths to accumulate the dust efficiently. After doing this, you can promptly vacuum the area, especially those that cannot be dusted by the materials mentioned above, such as carpets and furniture. It is best if you remember to clean highly placed fixtures and fittings.
Step 3: Replace beddings and mats
Some clients may require you to replace some of their furniture. Beddings such as pillowcases and bed sheets are some of the bedroom things you need to replace. You can also replace placemats or chair covers in the dining room. Make sure that you have your clients' permission when doing this.
Step 4: Mop the floors
After the dusting and replacing are done, you can now turn to mop the floors. Mopping helps you clean the remaining dust left and give a clean finish after all the work. You can use an all-purpose cleaner with a scent to make the room smell fresh and eliminate odours. To add more shine, floor wax is optional, especially for wooden floors.
Conclusion
Some people may find cleaning difficult, but it's just a matter of organising and innovating. You should always be aware and knowledgeable of what you're doing and the products you're using to avoid damage to the area you're cleaning. It is always important to be mindful when cleaning, even of the tiny details.
Always learn to be efficient when you clean to avoid cleaning it again. Having a plan is vital to a successful cleaning process. Furthermore, you should never forget to clarify what you need to clean and what is out of your reach. Most of all, enjoy cleaning and make it a hobby so that you can learn from it.
FAQ
How to clean my cleaning tools?
Cleaning tools should be washed and dried every after usage. You can use cleaning or laundry detergents to clean your tools.
How often should I clean the bathrooms?
Generally, it is customary to clean your bathrooms once or twice a week; it does not have to be every day.
What should I use to clean windows?
Cleaners sometimes find it hard to clean windows because of streaks. Window cleaners in a spray bottle and a microfiber cloth or window wipers are helpful to clean those areas.