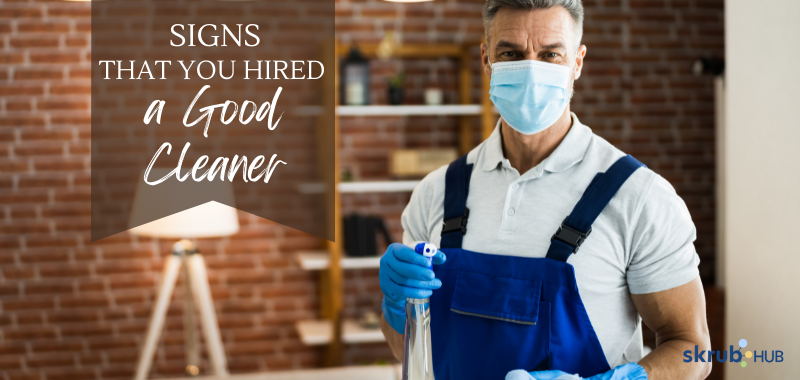 Signs that You Hired a Good Cleaner
9 Signs That You Hired A Good Cleaner
In this current pandemic, it's more vital than ever to maintain your home or establishment to be cleaned and sanitized constantly. According to the Centers for Disease Control and Prevention, cleaning your premises decreases the risk of infection and reduces transmission of COVID-19. But how can you do the cleaning if you are working full time? You might even be tired when you go home late.
That's why you need the expertise of a professional cleaner. Hiring one offers several advantages to having your home be cleaned. After all, a clean living environment is essential for everyone's health. However, with so many cleaning businesses out there, it may be hard to distinguish that the cleaning service you choose is up to meet your expectations. So how can you tell that you've chosen the best there is?
Here are some promising signs that you hired a good cleaner:
1. They should look professional
It is critical that all cleaners appear professional, follow stringent personal grooming requirements, and follow all relevant health and safety practices in any workplace. In addition, cleaners should have their uniform worn to be neat and tidy.
2. They should be highly trained and certified
A large number of cleaning businesses use potentially hazardous chemicals and cleaning equipment. Therefore, cleaners must receive extensive training, and they are supposedly trained in handling these chemicals and equipment. Other than that, they should be trained to clean every surface and corner with ease. Moreover, they should understand how to thoroughly sterilize and disinfect your home or establishment, which considerably helps defend everyone from infections.
When looking for a good cleaner, this is something that you should look at, and you have the right to ask if they have the necessary certifications to do the cleaning.
3. They should treat their clients well
Choose a cleaner that is well-known for providing excellent customer service. Request testimonials and don't hesitate to question them about the quality of cleaning they provide. A good cleaner should have a sense of sensitivity to his clients, and they should provide you with appropriate warnings if there are difficulties with scheduling. Cleaners should also be sensitive; they should reply to your calls or messages in a timely manner, and they should discuss your expectations and know what the work entails.
Additionally, a good cleaner must know how to communicate with his clients. Finally, he should be attentive and devoted to fulfilling your goals and should be willing to go the additional mile.
4. They meet your expectations
One indicator that will tell a good cleaner is that, of course, they clean well. And, they should be more than just getting the job done. The instant you step into your workplace, you realize that it is pristine. You may confidently touch everything without fear of coming into contact with viruses or bacteria. Dirt and dust are visible to the naked eye. If you can detect them, clients, guests, and future clients will also notice them.
They should acknowledge that you have particular demands and needs that they need to accomplish. Of course, it goes without saying that they should ensure the best service they will give to you by providing quality work. Once they are done with the cleaning and see that you are satisfied with their way of cleaning, that's an excellent sign to end with.
5. They work meticulously
You can easily recognize a good cleaner by how they grab each cleaning equipment and how they use it. They also work with a consistent speed that is strategic and just fast enough to avoid getting in the way. Cleaners that work too quickly are most likely in a hurry to end their shift, whereas those who work too slowly may be passing the time.
Even if you merely want a basic cleaning of your property, a good cleaner pays close attention to detail. They don't skip the corners and ensure to go in and behind objects. Aside from that, they are meticulous, and you will see everything returned to their rightful positions, sometimes in a more aesthetically pleasing manner than before.
If you periodically discover items that were not cleaned adequately, it is possible that they were rushed or just overlooked something. And if they're missing something entirely, likely, they didn't understand you needed it done. However, if the cleaner you've hired isn't as thorough as you'd want, let them be aware.
6. They set standards in their cleaning service
Reliable cleaners take pleasure in the standards they have set and established for themselves and will make every attempt to uphold them at all times, regardless of how long they have been operating.
You can tell whether a task has been hurried. Rushing through life will get you nowhere and how much more in the cleaning per se. That's why when you see a good cleaner that provides high-quality cleaning, it means that they have standards that they meet with every client they have.
7. They are consistent in their service
A good cleaner should prioritize consistency in their cleaning service whenever and wherever they will be. During this COVID-19 pandemic, the quality of cleaning can't be significantly risked. That's why quality cleaning matters a lot this time around.
An effective cleaner has a method of keeping complacency at bay. He should offer this by conducting a routine inspection of their service daily. In addition, cleaners should learn and have continuing professional development to ensure excellence and consistency.
8. They should be on time always.
Several cleaning business services provide cleaning services throughout the day. When the client establishes a schedule and the cleaner agrees, the cleaner should come on time or before the scheduled time. A cleaner must know how to manage his time well and prepare in advance to avoid unprecedented events. Additionally, a dependable cleaner must adhere to the plan and arrive on the agreed-upon day and hour.
In the event of an emergency, the cleaner may arrive late but the cleaner should be considerate enough to tell the responsible party of their impending lateness and to adjust the timetable as required.
9. They communicate well.
A good cleaner must communicate with his client even after signing the contract. He should not convey that he is merely competent at the start. A client's connection with a cleaner won't always be good. Others start and end rough.
There will come a moment when the client will be dissatisfied with the work that has been done. In these times, having a competent cleaner who has good customer interaction is equally essential. A reputable cleaner understands the importance of listening to their client's comments. Therefore, they should maintain communication effectively and ensure that the problem is resolved as soon as possible. After all, the golden rule is always to keep clients pleased and satisfied.
Final Takeaways
There are several indicators and factors that you have selected the finest cleaner in the neighbourhood. If you observe any of these signs mentioned above, you haven't wasted your money getting one. They are like a gem in rock, and they are rare in some cases; if they have done an excellent job at first, how much more if you hire them next time.
A dependable and reputable cleaner is difficult to find, so if you have luckily found one, be sure to express your gratitude. In that way, their hard work would pay off.