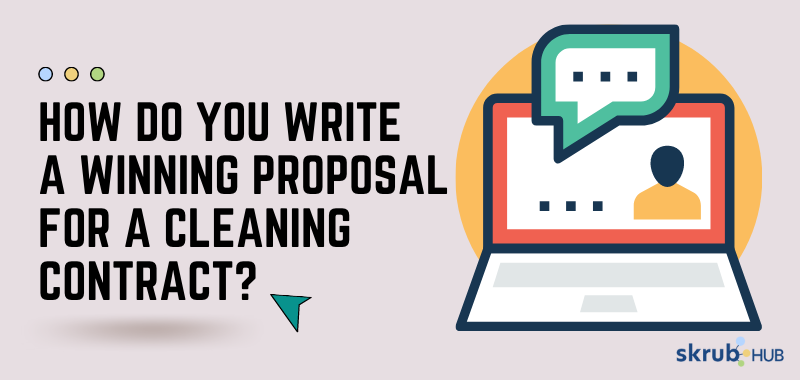 How do you write a winning proposal for a cleaning contract?
How do you write a winning proposal for a cleaning contract?
A cleaning contract proposal is a business document that serves two important purposes for your company. First, it provides comprehensive information about the cleaning services (carpet cleaning, disinfection, window cleaning, bathroom disinfection, general cleaning, etc.) your company plans to offer to a prospective client. It also includes the terms and conditions of allowed changes in the services, payment methods, cancellation and termination clauses. Second, if they agree to do business with you, it would serve as the basis of your cleaning contract to seal an agreed-upon deal through a binding document.
It might come as a surprise, but you should not focus too much on cleaning if you want to win a contract with your cleaning proposal. If you send a client your cleaning proposal, they are already assuming that you have the proper supplies and equipment and that your staff are already well-trained to carry out the cleaning services. To convince a client to do business with you, your cleaning proposal must highlight your edge over your competitors.
It's good to have a general template for your cleaning proposal so you don't have to start from scratch every time a new business opportunity comes up. In this article, we will be providing you with tips on how to make your cleaning contract proposal stand out as well as its important parts.
Communicate your business purpose
Simon Sinek, an inspirational speaker, talks about a model called The Golden Circle that would help a business, like your cleaning company, stand out among the rest. The Golden Circle consists of the innermost "why", followed by "how" and lastly, "what".
Sinek points out that focusing your business proposal on why your company exists can impact how customers perceive your business. By presenting your cleaning business as having a mission statement or purpose, your product and service offerings become proof of why your business exists. This value proposition or mission statement is best placed in the executive summary at the start of your cleaning proposal.
To help you decide on your own mission statement, consider why your cleaning services are necessary, why they make a lasting impression, and why your firm performs the task better than anybody else. It may take some time to articulate it into words, but you can carry your reputation with you wherever you go.
Highlight your edge over other competitors
Convince your potential clients of what you can offer that others can't. Your difference must not be only found in one aspect or be just hinted at shyly. Your edge should be proudly showcased and seen all throughout your cleaning proposal. Your edge should not be focused on cost alone. People will be willing to pay for your quotations if they believe you can help them better than others in the cleaning industry.
To help you decide what makes you different, think about the aspects of your business process that play a role in customer satisfaction. For example, do you use green cleaning products or apply green cleaning processes? Do you provide services that other cleaning companies don't offer? Are you investing in innovative technology or a unique strategy to deliver better service? Do you have low cleaner turnover rates because of your employee-centred management policies? Finally, take pride in your company, and don't be shy in telling your customers what makes you a great cleaning partner!
Be specific with your claims.
When writing your cleaning proposal, avoid falling into the pitfalls of using generic empty words like "best" or "most affordable". Many cleaning companies will claim these. This advice is in connection with advice number 2. Instead, demonstrate why you are the best or offer the most affordable cleaning service in your proposal. For example, you can prove you're the best in town by mentioning the awards your company won and your high client retention rate.
Another generic thing average cleaning companies will put in their proposal is that they have a team of professional cleaners. Instead, put in your proposal your staff members and their specific qualifications. This will provide a more personalized touch to your proposal and will boost your clients' confidence in placing their trust in your company.
Include testimonials from your patrons
It is important to advertise how good your cleaning company is by highlighting your difference, but including reviews from others is crucial too. Testimonials from your current customers are the best proof to convince potential clients to try your services.
Testimonials in your cleaning proposal can be in the form of reviews, ratings, endorsements, a number of customers and/or products sold. Ask for a handful of reviews from each of your client groups. This would help you craft a personalized cleaning proposal for a specific client.
Personalize your proposal
If you have been in the cleaning business for a while, you may already have a template for your cleaning proposal. This is good practice, as this can save you time. But you shouldn't forget to add something to your template to give your proposal a personal touch.
Do not forget to address the appropriate person in a company or client. This would make your prospects feel that you are really thinking about their needs with the drafted service plan.
This is where the importance of the walk-through you may have already done during your early meetings with your prospect comes in. Go back to crucial points during your discussions, highlight services you may have talked about, and only persuade the customer about a service you think will most benefit them.
Pick and place reviews that would help you persuade a client. For example, if your client is a busy working mom, as much as possible, put in testimonials from a patron who is also a working lady. If the prospect is your first type of client, look for reviews from similar cleaning troubles your current prospect shared during the walk-through.
Tell them how they can benefit from your cleaning services
Make sure that your cleaning proposal tells your customer how they can benefit from your services. Point out how the cleaning service you are proposing will meet their needs or improve their company or home. If you want to add an additional service not discussed with the prospect, you may do so, but explain why you think they can benefit from it.
Your cleaning service can help busy individuals free up their schedules and afford them more time to be spent with their loved ones. In a company, a clean, sanitized workspace can improve productivity and reduce sick days. For companies that cater to their customers on-site, a clean workspace would positively impact their customers.
A sanitized and clean workspace is more relevant now. With the COVID-19 pandemic, people have seen the importance of keeping working areas and homes clean all the time to protect employees and loved ones. People's keen sensitivity to the concept of cleanliness would still remain even if a "new normal" is established.
Be descriptive in your proposal so that prospects can visualize the positive change your cleaning services can bring to their space. A cleaner space in a bank office, for instance, would mean less disease transmission and a positive impression on clients.
Show your conviction to serve well.
A winning cleaning proposal communicates how committed the company is to ensuring customer satisfaction. Some would offer free cleaning services if the customer was dissatisfied with the service. Of course, you can think of another strategy to demonstrate your conviction. Emphasize to the customer what they can expect when they do business with you and what your plan is to guarantee their satisfaction.
Discuss the next moves
This part is past convincing the client to hire your cleaning services. This is where you discuss the nitty-gritty parts of the deal. This is where you'll explain the terms of payment for the service so that everything is clear to the customer. When you explain to them how and when you expect to get paid, you're also securing a positive relationship with them.
Most cleaning companies today have adopted digital modes of payment. The norm these days is to bill at the start of the cleaning service. An advanced upfront payment provides you with the security that you can pay your cleaners on time and prevents you from running after customers to get paid.
Parts of a cleaning proposal
The first page of your proposal is the title page and serves as the cover. It includes customer information, your company's name and logo, and the title of the proposal (house cleaning, office cleaning, playhouse cleaning, or others).
The introduction sets the tone of your cleaning proposal. It provides the client with a quick summary of what your cleaning company does. Though the introduction might seem similar to the company overview or executive summary, it is shorter in length and serves as a teaser of what you can offer. In the introduction, you should say what makes your company different from others and why it is the best choice to be the cleaning partner.
This is what others may call the executive summary. Remember the why's and hows of Simon Sinek's Golden Circle? This is where you can put it to use. In your business proposal, talk about your company's vision ("why"), work routine ("how"), and future objectives. Mention your company's history briefly for more clarity. You can include details about your team members' experiences.
Discuss your skills, areas of experience, comparable challenges you've handled, and the benefits you provide over your rivals, all in the context of how these factors will benefit your prospect's business or quality of life at home.
Cleaning services offered
The primary purpose of a cleaning service proposal is to present all the relevant information about the cleaning services you offer and how they can solve the prospect's problems. In this part, you can describe the equipment or technology you'll use for the work and the cleaning schedule for each specific service.
In the price quotation area, the payment information and terms must be provided in detail. To minimize misunderstanding, organize the service prices into tables and line items before summing up the total cost. Again, being transparent would build your prospect's trust in you.
There is a lot of fish in the ocean, so to speak. Your proposal should distinguish you from other cleaning competitors. To do this, you emphasize your business differentiator. This can be done by incorporating client testimonials, a description of what makes your services distinctive, and photographs of your previous work. Choose past client experience that has a similar background to your prospect, featuring your capacity to provide first-rate services.
Your proposal for cleaning services must include all the terms and conditions that will govern the total cleaning contract, such as essential provisions (contract activation, renewals, modifications of services, etc.), cancellation terms, and invoicing terms, among others. Include proof of insurance coverage, if applicable, to reassure your prospect that your company is covered in the event of damage.
Include signature blocks for all parties engaged in your proposal for cleaning services. If the prospect agrees to all the things postulated in your proposal and does not desire additional clauses to your agreements, then they can directly sign your proposal. After all, parties have signed the proposal; it will become a legally binding contract. This saves you time in drafting another document.