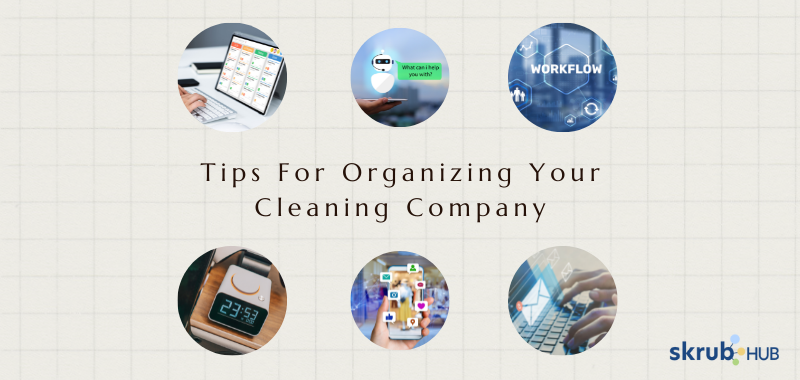 Tips For Organising Your Cleaning Company
Ultimate Tips for Organising Your Cleaning Company
Having a cleaning business can be troublesome, and if you want to start one, you will surely wear multiple hats. Workloads and tasks may build up progressively, documentation can be misplaced, and time will be wasted in looking for them. That means you have to balance numerous tasks successfully in one go.
If you own a cleaning company, everything should be easily accessible, but it will become problematic as time passes if it is not well structured. Organizing your cleaning company might not be a top priority, but it should be done appropriately because it can boost productivity, reduce risks and raise income.
Good organizing abilities may considerably affect a company owner's competence, making them save more time and stress-free. To learn more about how you can organize your business, read below.
Tips For Organizing Your Cleaning Company
Schedule Appointments
Making appointments is a complicated process. It is exhausting and, if not done correctly, may lead to a series of errors. Scheduling appointments manually with the calendar in front of you is more worthy than relying on someone else to tell you. However, with digital technology, a company can schedule appointments easily by using business scheduling software. Small business owners used this software to reduce their customer's queries by automating it.
The ease with which you may schedule appointments will benefit both you and your customers, according to Bookedin. As more consumers use digital devices to make appointments, online booking is becoming increasingly popular. It allows them to arrange, cancel, and reschedule meetings without interruption. As a result, both your customer and your company will save time and money.
Using AI assistance
It doesn't seem that long ago that the idea of robots taking over the world was merely a movie plot. However, chatbot marketing has become a common term in the corporate world, and the benefits of chatbots are quickly influencing more firms to begin investigating the potential of artificial intelligence (AI).
These are software applications that replicate human-to-human conversation over the Internet, according to Engagebay. They are autonomous virtual assistants that can connect with people through direct messaging, websites support, and onsite, online chat systems.
Chatbots, unlike your support staff, do not require rest. Because there is no learning curve or prior training necessary, anyone may easily communicate with a chatbot if it is integrated into your customer care system. When a customer needs assistance, your company may be able to offer it, even if it is outside of regular business hours.
By replacing customer support representatives with chatbots, you may substantially shorten interaction times across all media, including phone calls, social networks, and messaging apps. This is one of the most evident chatbot benefits.
Business automation
Automation streamlines the process of sending invoices, providing payment data, and facilitating bank transactions according to Productivity Inc. If you don't want to disturb your customers, look for processing payments technology to manage everything for you.
With multiple clients to deal with daily, the last thing you want is for an invoice to fall between the cracks. Business automation also ensures that clients in your cleaning business may pay digitally, which is the form of payment for most customers. In fact, if you accept cashless transactions for online sales, your income will almost certainly grow.
Using business automation software to track payments, billing management, and invoicing may assist you in eliminating human error and incorporating real-time data into your operation. This implies that your finance team can detect and address potential issues before they become serious issues.
Customer Relationship
Client engagement is critical to the profitability of your cleaning business. You'll substantially simplify your procedures while keeping your customers pleased if you have highly attentive and competent customer care staff who can swiftly relay your clients' demands to other areas.
You may also utilize customer relationship management (CRM) software. This automation software makes it simple to keep all of your company's client information in one place. For example, it might provide accurate data on the status of each client connection, allowing you to provide a better customer experience.
Your cleaning company may also choose who has access to this sensitive information, aiding in protecting client information from malicious actors and security difficulties.
Implementing Policies
Make a list of processes that your workers should follow and compile it into a handbook that will rapidly introduce fresh team members up to speed. These regulations should include the cleaning company business, a cleaner's conduct requirements, and recommendations for dealing with various scenarios and equipment.
Making it easy for your workers to achieve will boost their involvement and job happiness, making it easier to keep excellent personnel. But, most importantly, you'll be able to provide your customers with the cleaning services they want and deserve more efficiently.
Organize Your Own System
Rather than pushing yourself to embrace an entirely new process or set of organizational routines, try experimenting with several tools and then attempting to incorporate them with your current habits.
There is no correct method to manage your cleaning company, but you can include several strategies and tactics into your routine to maximize productivity and stay organized.
Make Templates
Creating and designing templates is another excellent approach to becoming organized. It is highly recommended that doing this for almost every work you undertake will keep your cleaning company more organized than ever.
Begin with email answers, social media captions, or blog posts. You may also use template software in creating templates. This will simplify building tasks and project templates. Not only that, but you can also produce standard templates that you may utilize and customize to your own requirements.
Email Handling
Most employees spend many hours each day getting, sorting through, and responding to emails, some of which are irrelevant to their principal responsibilities.
Businesses can help their employees notice and respond to crucial emails more quickly and efficiently by automating their inboxes. In addition, many firms may benefit from email automation in addressing productivity issues.
Instead of manually assessing every word that comes in their mailboxes, employees use automation to organize their heaps of daily emails, send automated answers to some, and route everything else to defined folders for future review.
Time Tracking
You should be cautious about this since time monitoring might harm morale. But, according to Forecast, time tracking, when presented correctly and appropriately, will help keep your cleaning business organized and better prepared to plan for the long term.
Time monitoring does not necessarily imply that you document when an employee arrives or departs but instead that you measure how much time every worker spends on a particular project. This is especially useful if you are billing for your cleaners. It will also notify you if a cleaner's allotted time is just about to run out.
If a cleaning service is repeated, you can glance at the last instance it was completed and the number of funds and hours invested. This implies more precise quotes.
Final Takeaway
Over the past decade, an increasing number of cleaning businesses have started to automate their processes. As a result, business automation is gaining momentum and is not slowing down.
Organizing your cleaning company may increase total productivity by eliminating a significant portion of repetitive workplace responsibilities, reducing hours wasted on duplicate jobs, and reducing hours spent on repeated chores. These and other important benefits have motivated a growing number of cleaning businesses to implement further organizing efforts into their operations.
If you desire a growing number of delighted customers, you should focus on process excellence. Organizing your cleaning company is a straightforward and cost-effective way to get started.