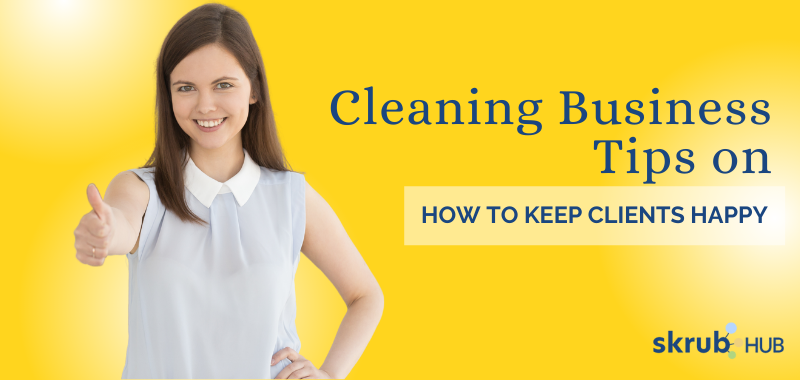 Cleaning Business Tips on How to Keep Clients Happy
Cleaning Business Tips on How to Keep Clients Happy
When operating a cleaning business, customer loyalty is very important. A cleaning business must meet the demands and expectations of its clients. As much as possible, you should deal with everything that meets the eye from your customers' perspective because it is one way to prove that you are a dependable and reputable cleaning business company. It is the very key to retaining them to be your loyal clients in the long run. More so, they can help spread your brand and help with your marketing strategy.
Having regular customers can save you a lot of time and effort in terms of advertising and marketing. In fact, if you intend or own a cleaning business already, you may be able to obtain enough customers to make a decent income. But how do you entice clients to return and avail of your services again? It's incredibly reasonable to say that you should perform your best in every way and must approach every task as if it were your first time. However, you need to think more and do more in order to gain their trust. Here are some cleaning business tips on keeping clients happy with that in mind. Follow everything below to be successful in your cleaning business journey.
Be Professional
You must have a quality assurance strategy in place so that you can have a clear grasp of the standards your clients may expect you to meet. Remember that giving services is more than about making outcomes. Make it an objective to answer every query thrown your way by a customer. Then, if you are confident in answering their questions, they will be assured that you know your way in the cleaning tasks.
Make yourself available at all times. When a customer has a query or a problem, they will momentarily get upset if they can't reach you. Ascertain that they understand when to call you and ensure that you act promptly to remedy every situation. Aside from that, take the initiative most often. Rather than waiting for a customer to give feedback, anticipate them first to avoid issues.
One other thing is not to make things complicated. Make things simple, and don't waste your client's time. Streamline your processes so that customers can readily inquire and make adjustments. Sharing your knowledge and giving tips is a better to create bonds with your clients. Assist them in improving their home or establishment from the appearance to the cleaning part.
Smile When Communicating
When handling clients, it's vital to consider managing them properly. Make it a point to consistently listen to what things they need you to do. Give them your full attention, ask clarifying questions, and maintain an open mind. And don't forget to smile when communicating with them. Start fresh and be happy while performing excellence in cleaning.
Remember that clients want to feel appreciated. They want to be assured that you really care about them and their home. So make continuous contact with them and maintain the linkages. You can also ask them what they regularly want by giving them monthly reminders so they won't forget about you and that your area is ready to serve them again next time.
Keep Things Easy
Make your processes and rules simple to comprehend for your consumers. Walk a fine line between continuing to use procedures that your consumers are familiar with and trusting and integrating upgrades and new technology into your organization. When you implement adjustments, notify your consumers, show them how it will affect them, and ask for feedback.
Be Updated
Although the cleaning business sector is neither flashy nor complicated, seasoned cleaning business company owners believe there is always something new to learn. Technology developments impact the equipment you use, safety concerns impact the products you use to clean, and there will always be methods to improve your organizational and administrative abilities.
Read industry magazines, attend seminars and conferences, join trade associations, and push your sources to keep you informed.
Get Feedback
Although complaints and criticisms are difficult to hear, disregarding them is an expensive error. That is why it is essential to get costumer's feedback to enhance your services. That input may assist you in making improvements next time. After each cleaning session, you may give them a form and ask your customers to fill it out for you. Make it short and doable in just a few minutes. Start with a few questions and their thoughts or recommendations.
Customers may sometimes be reluctant to provide feedback, but they may be more likely to do so if you provide incentives. When customers complain, swiftly respond or return their calls, listen to them without being defensive, apologize for the difficulties, and resolve their concerns as soon as possible. You may also give them a discount coupon on their next appointment with you.
Do everything it takes to please the customer. Remember that finding a new customer is more expensive than keeping an existing one. Keep in mind not to make promises that you can't even comply with. Failure to satisfy their expectations may be enough to cause them not to hire you again. But if all things have been done excellently, they can be your loyal and lifelong clients.
Create a Customer Loyalty Program
One helpful tip to make customers interested in your services again is giving them a customer loyalty program. This will provide you with continuous clients and bookings every month. You may also include incentives such as additional services, point-based system rewards, and discount coupons.
See that you understand the customer's perspective to create the best program. Then, think about something that would make your clients avail more services from you. For example, the more services they avail from you, the more discounts they can have on their next cleaning appointment. That would make them excited to get your service again the next time they need it.
In today's setting, subscription services and loyalty memberships are common marketing strategies. According to Forbes, recurring customers often are inclined to avail and spend on more services than new customers. With that, you should be able to create more income solely from the services requested by your loyal clients.
Final Thoughts
Customer satisfaction is simply a measure of how pleased clients are with your services. It is used to determine whether or not your cleaning business has perfectly done the tasks well and met every expectation from the customer's point of view. Understanding the notion of customer satisfaction will help you identify how to enhance your services to guarantee you satisfy your consumers' demands and expectations.
They will undoubtedly be your loyal customers and refer your business to their friends. One key to making this happen is to make them happy as you finish the tasks. It boosts customer loyalty and promotes the business by improving your reputation and encouraging recommendations.