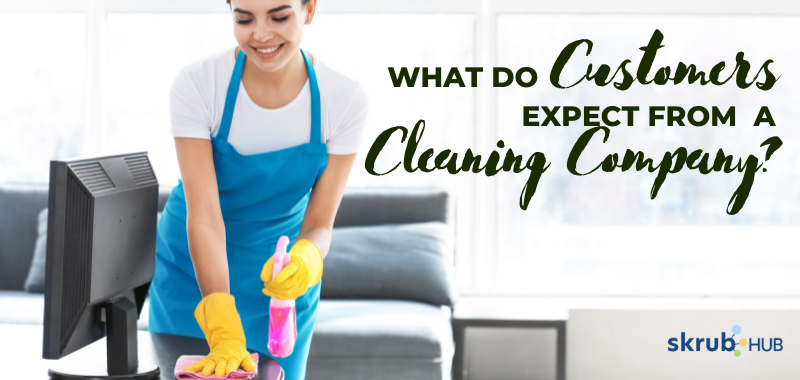 What do Customers want from a Cleaning Company
What Do Customers Expect From a Cleaning Company
Being new to the industry may feel like you are walking on eggshells. However, how you treat clients and deliver your services will have a lasting impression on your business. Giving quality work will help you get more customers and even keep them as regulars.
To attract and retain clients, you'd have to pause and think about what clients really want from a cleaning company. Clients would like to wish that a cleaning company walk their talk more than looking professional. That is, customers expect that you deliver what you promise them. So how exactly do you deliver what customers want? This article will help you identify what customers want and how to meet their expectations.
Honest and Realistic Promise
Your top priority as a business offering cleaning services is, of course, delivering quality cleaning service. But your best work might be different from what your customers expect. This mismatch between what you can deliver to what they expect can lead to misunderstanding and might even ruin a potential good client relationship.
It is imperative that you set realistic expectations from the start. Before agreeing to do a job, you must have already listed the services you can offer to them. Be truthful in your advertisements. Don't go overboard with your products just to attract customers and then fail to deliver the job.
It would help if you were transparent about how far your cleaning can go to their place or item. For example, if you are tasked to clean a carpet or a coach, do not promise them you can make it look brand new again. Do not also expect your customers to know what to expect. For many clients, this might be their first time hiring cleaners. They may be unaware of the etiquette and anticipated assumptions on their part. It is your responsibility to inform your consumers.
One way to do this is to make a guide for customers when they inquire about your service offerings. This guide can be attached to the invoice to help your clients know how you'll carry out your services.
Quality Work
After setting up what you can offer and helping customers have realistic expectations of what you can do, the next thing is to make sure you hold your end of the deal. Whether working alone or having a team to help you, whether you are just starting or are already confident in your trade, make sure to do the cleaning job as if you are still new to the business.
More than attracting customers, your goal is to keep your customers from returning and re-availing your services. Your business must be built on delivering quality cleaning services to do this. Doing this can help you build your reputation. This, in turn, can help you secure recommendations from your patrons and expand your business.
Being meticulous in detail is a way for you to show your customers you can provide the best service. Customers will transfer to another cleaning agency if they think little things are overlooked – unwiped water droplets in the mirror, dust on top of frames and paintings, an unorganized stack of magazines.
If a customer makes reasonable requests that would not need additional cleaning fees, be sure to carry them out. A customer feels valued when you remember to do instructions, especially in terms of how to clean specific parts of their premises. Securing a customer's satisfaction is a way for you to ensure their loyalty.
Positive First Impression
They say you never get a second chance to make a first impression. Every staff, whether cleaning or office employee, that gets to talk to a customer becomes the face of your company. Delivering quality work is important, but leaving a positive impression on customers is equally vital to keeping your patron's loyalty.
Train your subordinates to handle customers courteously. Remind them always to be accommodating to customers regardless of their own bias. Remember that anybody who goes to or calls your business is a potential client who can promote your business positively or negatively based on how they were treated. To make sure you are putting your best foot forward, follow the following points:
Greet the customer with a smile the moment they open the door.
Greet them politely and cordially. Don't use their first name unless they specifically want it.
Explain to them what you are doing and tell them truthfully how long your work will take.
Be generous in giving your clients cleaning and maintenance tips, and they would highly appreciate them.
If you are unsure about a customer's request, ask questions to clarify the matter.
Patient With Queries
Part of doing business for people is answering queries after queries. You might even have to answer the same question repeatedly in a day. This might be irritating at times, but as we have already covered in the previous step, customers should be treated kindly and courteously. Lengthen your patience.
Many customers will ask about how you do the cleaning process or ask for cleaning tips. Grab that chance to build a good client relationship with them. Answer their questions enthusiastically as if it is the first time somebody has asked you about them. You can also list and compile common questions asked by clients and list the corresponding answers. This compilation can be helpful, especially for new employees.
Handles Complaints Professionally
As with any business, complaints will be inevitable no matter how good you think you are handling your business and customers. However, handling customer complaints and addressing them promptly will turn a customer's poor experience into a positive one. This will improve your business process and will even keep your customer.
It is best to develop a complaint handling policy and procedure before you start accepting cleaning services. Inform and educate your customers about your policy and practice, too. This will reassure your clients that you value their inputs and are committed to providing them with appropriate, timely and effective solutions. As a result, customers will go directly to you instead of complaining to others.
Here are the steps on how to handle a customer complaint:
Listen and Empathize: Pay attention to the customer's grievance and thank them for bringing the matter to your attention. Customer often calms down when they see that you genuinely listen and sympathize with them. Apologize and own up to your mistakes. Avoid blaming your customer. If the customer is at fault, do not say it directly; instead, tell them you understand where they are coming from and that you're also eager to iron out the problem.
Get the Facts: Check and see that you have all the facts about the complaint correctly by communicating with the client. You'll see that miscommunication between the client and the cleaner often causes mistakes or bad experiences. Record and catalogue details of complaints you handle. This will help spot common complaints to prevent similar incidences from happening in the future.
Offer a Solution: Inquire about the customer's desired reaction; it might be a repair, replacement, refund, or apology. Decide whether their request is reasonable and allowed according to the company policy. If the request is not possible, be transparent and inform them it is not possible but offer an alternative to appease them.
Perform the Solution Quickly: Do the agreed-upon solution as promptly as possible. If you do not deliver the solution as promised, the customer will get frustrated and angry again.
Follow–up: Contact your customer to ask if they are satisfied with how you handled their complaint. This again boils down to making your customer feel valued.
Final thoughts
Trying to figure out what clients want from a cleaning service might be overwhelming. But really, it all boils down to excellent cleaning service and exceptional customer service from pleasant, courteous staff. Maintaining good relations with your customers by understanding what they want, delivering quality output, and resolving complaints will sure make them seek your services again.