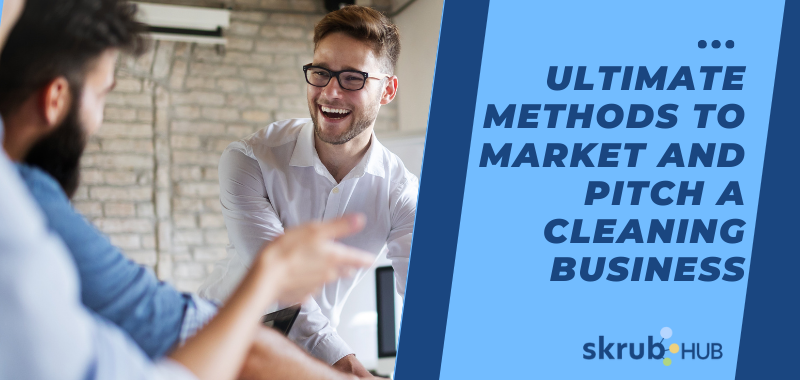 Ultimate Methods to Market and Pitch a Cleaning Business
Ultimate Methods To Market And Pitch A Cleaning Business
The top ways to distinguish yourself from the rest of the cleaning industry would be a unique selling proposition, superb customer service, and, of course, delivering your promised cleaning service outstandingly. These points are non-negotiable, and any marketing strategy will fail in the long run if your cleaning business does not have them.
Once you have checked off all these non-negotiable points, you must now focus on making sure your business thrives and grows in the industry. Given the competitive nature of the cleaning industry, you must focus on your marketing strategy. Another aspect of your cleaning business that you'd have to consider is growing and scaling it up. You might be still new to the industry, but it never hurts to plan these things ahead of time.
The first part of this article addresses the marketing aspects of your cleaning business. At the same time, the second part will focus on scaling up your operations.
Marketing your cleaning company to stand out
We have already covered most marketing strategies, both online and offline, in our previous articles about what customers want in a cleaning company and how to get their attention and brand your cleaning business.
In this section, we'll focus on the strategies not fully explained in the previous articles.
Signature Cleaning Mark
After you're done with your cleaning service, make your customers remember you by leaving signature cleaning marks. This need not be expensive but can be as simple as tissue origami pieces, sweet treats, magnets or stickers. Things such as folding towels uniquely, vacuuming in a certain pattern or arranging pillows craftily will not cost you anything. Still, they will surely make a statement that your company was there.
Blog
You can have a blog in addition to your website. You can discuss cleaning in general or dedicate it to a certain type of cleaning. You can share other topics such as your experience cleaning residential and commercial spaces, tips and advice to those who want to join the cleaning industry.
When integrated into your website, blogs will serve as a way to sell your skills and knowledge in this field. Because this will take a substantial amount of time, you'll need to dedicate some of your time to managing the blog. You can do this yourself, but you can hire someone else to manage your blog if it takes too long.
TikTok
Tiktok has taken the world by storm during the COVID-19 lockdowns and has even given Facebook a run for its money with its staggering one billion monthly active users. In addition, the platform is a goldmine of potential customers you can reach out to and attract. For example, #cleanTok or short cleaning videos help cleaning companies reach a wider audience with satisfying ASMR (autonomous sensory meridian response) washing and vacuuming, showcasing spotless outcomes.
Email Marketing
Email marketing is a quick, inexpensive way to reach customers and help you stay in touch with old ones. Have an organic list of former, current and potential clients who'll most likely avail of your cleaning services. To do this, collect and file the email addresses of people who avail of your services. You may also include sign-up forms on your website so that clients can choose to receive emails.
It is suggested that you send two to four emails per month.
Pay-per-click advertisements
Pay-per-click (PPC) advertising is another way to boost traffic to your cleaning business website. Popular PPC platforms are Google, Bing, Facebook and Twitter. If your cleaning company is just starting out, PPC advertising will increase your website's visibility while you still have not earned many site viewers organically.
Google My Business
Google My Business is a free business tool that'll help you manage and optimize your business profile on the world's largest search engine. Using this tool puts you on Google Maps, where people can easily locate your business. Similarly, when customers search for cleaning services in your area, your company will also be suggested in the Google Maps listing. Customers can leave reviews about your cleaning business which also enhances your credibility.
Effective ways to pitch a cleaning service
Getting a chance to pitch your cleaning service and get a cleaning contract can be both exciting and terrifying. But you have worked hard just to get that chance, and you have to ace this. So continue reading below to help you close that deal.
Research beforehand
We cannot stress this enough, but researching your niche market is crucial. Your pitch about your cleaning service must come across as relevant to whoever you're speaking to. Pitching cold will make your proposal broad and feel less aligned with what they need.
Investigating and remembering who you'll be meeting with is equally important. It'll be embarrassing if the other party senses you did not do your assignment well enough. Some decision-makers are tough, and you should be prepared when dealing with them.
Listen and pitch smartly
It becomes tempting to showcase your cleaning business like a speeding train when you've thoroughly researched and prepared for your pitch. To secure a deal, start with your general pitch and be a good listener, giving time for them to speak and tell you about their business problems which might not have cropped up in your own research. Do not hesitate to ask questions to have a more solid grasp of what they need. It'll come directly from them about what they are looking for in a cleaning company most of the time.
Price is not the only factor that'll interest your clients. Tell them how their company can benefit from yours by you helping them out with their problems. For example, highlight your company's cleaning insurance if the client is concerned about possible damage during the cleaning process. If they complain about the state of their floors, mention your carpet cleaning and floor waxing service. Make your prepared talk more appealing to them by incorporating relevant information based on what they shared.
Close the deal
Closing a deal is a crucial moment. It's critical to say the right words to clinch the deal. This moment will determine if the pitch was a success or not. There is no exact formula on how to close deals correctly. In fact, this requires trial and error. The following are some ways you can frame the end of your pitch:
Assumptive Close: This technique draws on thinking positively that you have already successfully secured the deal. "When can we start the cleaning process?" "Should I get the papers ready?"
Question close: Closing with a question that will determine whether they want to seal the deal or if there is something else they are hesitant about. "Do you think our cleaning offer will address your problems?" "Is there a reason we can't proceed with the proposal?"
Soft close: Ending with how they can benefit from your proposal and asking an undemanding question to assess if they are open to discussing things further. "If I could reduce the price by 5% and add a free window cleaning service, would that fit your company budget?"
Direct close: Simplest but often most effective technique to close a deal. "Will you partner with us today?"
Cultivate and follow-up
Not all business proposals end up as a success. However, this should not be a deterrent to you to try again. Sometimes prospective clients are interested but are just not ready at that particular time. They might ask for additional time to review the proposal and meet another time.
Don't get cold feet and end communications with them. Instead, remain visible to them through your posts or email promotions from time to time to see if there's another opportunity to do business with them.