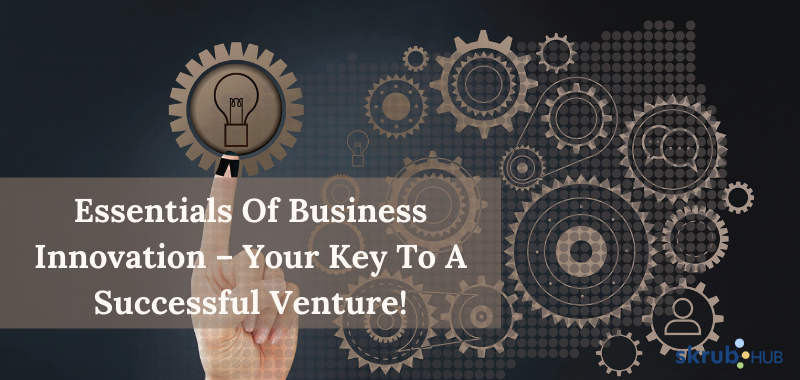 Essentials of Business Innovation
Essentials Of Business Innovation – Your Key To A Successful Venture!
Entering the world of business and entrepreneurship is a bold decision many people are willing to make. However, it requires a load of requirements before you even start creating profit or growing your venture. Some tangible requirements are the capital and medium (location for physical businesses & gadgets for online ones), while the intangible ones require more learning.
The intangible requirements are the qualities that build up the business. It is not about your means and money; it is about how you handle them and circulate them within your company. The process of innovation plays an important in building your own venture. With that said, here are all the things you need to know about the essentials of business innovation!
What is innovation, and why is it important in business?
Innovation is renewing or recreating something from an available item, service, or domain. It is widely used not only in business but also in the field of science and medicine through new inventions and discoveries. By being innovative, you can test your mind to think out of the box and against your comfort zone to create new things.
In business, innovation is in many ways and forms. It can be through products such as adding a new flavour to your cookie business. Innovation can also be through services, which is extremely evident through customer service or membership affiliations. To simplify, innovation creates new strategies that can win the hearts of your target market.
Being innovative can indeed get you to places; you just have to learn how it can affect your business and its significance to your sales and development. Through slow and minute changes or massive and fast growth, this trait does wonders and influences your business, without a doubt! 
To explain further, here are some specific ways how innovation helps your business:
#1 Innovation creates your Plan B, C, D, E, and more!
In business, you should not settle without backup plans. Remember, starting your own business can be a game of gambling, a win or lose situation. And in line with that, it is always encouraged to have your backup plans, just in case. It would be best if you learned to create more ways to succeed and pick the best one by trial and error.
By applying innovation in your business plans, you can create a plan and modify it to create another one. For instance, if you put a specific strategy in Plan A, you should learn how to work around it to make your Plan B, and so forth. Failure is inevitable in business, so it is best to know how you will stand back up again by using different plans and strategies.
#2 Innovation makes you stand out from your competitors.
Every venture has its similarities and differences. It can be very hard to keep up and compete with businesses similar to yours through the ever-changing trends and crazes that occur through generations. The growing and changing market will always struggle to keep up, especially with the lack of innovation.
Innovative thinking helps create products and services that are authentic, unique and never before seen. It helps you predict the trends that can possibly grow as time passes by so that you can be the first in the market to do those. And if your products or services are the first on the market, you can increase your product value to compensate for your innovative mind!
#3 Innovation helps you make use of your resources.
Even simple things sitting around your area can turn into a business; that is the wonder of innovation! You can learn to make a simple object profitable through creativity and experimentation. Standing by the quote, "if there's a will, there's a way," can pave the path for the success of the venture you will create.
Being innovative is being resourceful, especially when you have low capital. It helps create new out of something old or useful out of something that was once useless. For instance, the pile of old clothes that you store in your closet can be upcycled and sold at a profitable amount. By this, you can declutter and clean up your wardrobe and gain money from it.
Business does not always come in big companies and large capital; it can be the small enterprises that dream of becoming big or small enterprises that want to remain small. Either way, you can display innovation in all types with the right mindset.
How do I become Innovative: Some Essentials of Business Innovation
Alike most traits, being innovative is something you can learn with the proper advice and lessons. Here are some essential features needed to boost innovation in your business and employees.
1.      Inspect and review your revenue.
To understand your business and improve it, you must know your strengths and weaknesses. Working with these can help you decide what you will maintain and what changes you can make for those you want to pull out of the business.
2.      Think outside of the box!
The economy has set norms and standards that dictate what businesses will grow and what strategies will work. While that can be a good learning curve to start on, it is always best to create something of your own. Putting that ounce of creativity into your business will help it grow and sell faster to your target market.
3.      Do not be afraid of trial and error.
In general, there are more failed experiences than successful ones, and that is where you learn. The trial will always be a part of business, especially when you are just starting and mastering the ways of the market. The error can be more of an advantage than a disadvantage in the topic of innovation. Though having errors, you explore where you failed and learn how to reinvent it and make it better.
4.      Seek help
Two minds are always better than one, especially through brainstorming certain ideas that can help the business grow. It will never cause harm to seek help from people who are also knowledgeable in the field and possesses innovation. In business, no man is an island, and you are allowed to seek help whenever needed.
Conclusion
Innovation is the process of revamping parts of your business to maintain its relevancy and its thrill to the market. By learning how to innovate, you can generate a solution from your already-hours resources. Thus, inducing less cost and even promoting sustainability and less consumption.
Remember that you can be innovative and bring it back up if things go downhill. Business tends to be a huge rollercoaster ride where you have to experience the ups and downs. But, despite that, having an innovative mindset can pull all those downs back up through that continuous cycle.
FAQ
1.    What if I cannot innovate anything new?
Innovation can be from other innovators, too! Getting inspiration from other businesses is always allowed, but copying them from start to finish is highly discouraged.
2.    What if the consumers do not like the ideas I innovated?
It is very important first to know who your target market is. In this way, you can cater to them without losing your efforts.
3.    Where do I get sources of ideas for my products?
Talking to your consumers and getting their feedback is a wise way to know what changes you should make with your products and services.