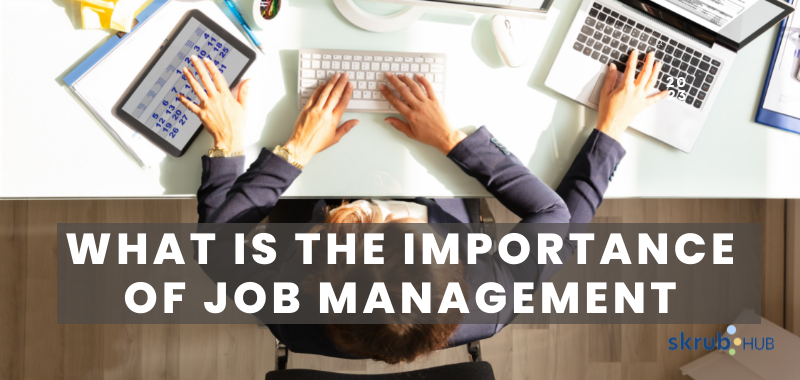 What is the Importance of Job Management
What is the Importance of Job Management
Managing a business is crucial if you aim for success. It involves managing and leading the workforce to create a working system within the team. Being the manager means modifying some rules and analyzing what aspects need improvement and which ones to retain.
Whenever there are problems and conflicts, the manager makes decisions based on their learning and training. Managers also face a lot of dilemmas where they have to choose what is best for the business and its people. Thus, this job position requires adequate and proper job management skills before resolving these problems.
Job management covers certain tasks that help organize and systemize the business increasingly. It supervises the business's daily operations to ensure that work is done correctly by the people assigned. Job management helps maintain and achieve the company's goals and cater to the problems that need to be solved.
Why is maintaining proper job management the key to success?
Good job management covers all management tasks, from time to task management. You cannot define success by profit but by engaging with employees and your customers. Job management is vital in the work area as it promotes a harmonious relationship between you, your employees, and their corresponding tasks. Below are some of the importance of job management:
#1 Job management creates a systemized workflow.
The root of business problems is the chaotic schedules and messy procedures. With chaotic schedule plans, your team may be confused about their job for the day. On the other hand, messy practices affect the outcome of the product or service they are working on. Either way, you can fix these problems by using proper job management.
Without a doubt, it can be challenging to manage a team, whether it is a small one or a big one. However, creating effective systems maximize the workflow for your business. You can discover which is best to do first and which ones should be last with job management. You can also distribute work to those who do it best because they will surely give 100% effort.
#2 Job management builds healthy relationships
Job management helps to optimize the team's skills and do work efficiently! It also measures the performance of each individual for assessment. Whenever there is poor performance, you can help train them to improve their skills.
Managing the job focuses on the work of every individual. You can engage with them to learn what job they excel in. In this way, you can allot the task according to their skill and maximize their efforts in that specific job. Creating a healthy atmosphere helps promote productivity and wholesome discussions in the workplace.
The 5 Skills of a Good Job Manager
It is easy to learn job management through training and experience. Through training, you will learn the important soft skills to become an effective job manager. With these soft skills, you can easily do technical jobs in the business such as finance, mentoring, etc.
1.     Interpersonal communication
Engaging with other people should be the primary goal of your task. Communicating to your employees and customers builds up the integrity of your business. Being a good communicator gives you a chance to know people's thoughts, and it helps create an accommodating atmosphere that will strengthen your relationship.
2.     Problem-solving and innovative thinking
Being the job manager of the team, you will encounter different problems. These problems can vary from easy to difficult; nevertheless, they need proper solutions. To generate practical solutions to your business problems, you must be a critical thinker and a good problem solver.
You must learn how to make decisions and solve problems on the spot. Being innovative helps create solutions that do not need new materials to make. For example, you lack butter for your baking business. So, you think of alternatives that can generate the same outcome as butter, such as olive oil or purée. This process helps to maximize your resources and lessen the cause of delay.
3.     Organization and planning
To avoid the problems mentioned above, a good job manager must learn to organize and plan. Organizing materials and resources help systemize the process of creating your products. But on the other hand, planning promotes advanced thinking to lessen problems like a shortage of resources.
Scheduling is also helpful in job management as it avoids conflict between the employees. Individual schedules for everyone induce productivity and effectuates task execution. Making a good schedule benefits the business in many ways.
4.     Listening Comprehension
Managing the team means that you can listen to their ideas and criticisms. Despite being a leader, accepting ideas from other people is never wrong. Welcoming ideas help you create a holistic approach whenever you make your decisions. Getting feedback is an effective way to know what to change and maintain from the business. Remember not to take criticisms badly; instead, think about how you can improve your management skills through their words.
5.     Awareness
Practising awareness also helps create a good workflow in your business, enabling you to learn about other people. When you are aware, you can be able to predict the outcomes of certain events. Awareness can vary into (1) commercial awareness and (2) personal awareness.
Commercial awareness is the skill that comes with being aware of the upcoming trends of your business. It keeps you ahead of your competitors and efficiently generates more customers by marketing. On the other hand, personal awareness is being aware of your actions and being capable of empathizing with others. Empathizing helps to create a considerate and sensible reputation for your venture.
Conclusion
Job management helps the business improve in more ways than one! It helps improve relationships between the team and the methods of production. With that said, it is important to have good job management skills to learn which aspects need improving and factors that need maintaining. Improve those leading to disorder and keep those promoting positivity for everyone.
Being a manager does not always mean that you need to lead the team alone. You can listen and talk to your employees or customers to get their feedback. Having an open and welcoming relationship with everyone gives you a chance to learn about their thoughts. Train yourself to be a good job manager to apply these learnings to your business!
FAQ
Can I apply for job management in an online workspace? 
Yes! You can apply for job management online by creating a relaxed approach with your employees in meetings. In addition, having great customer service is another way to showcase good job management.
Where can I expand my knowledge of job management?
You can develop your job management skills through joining training, seminars, or internships. However, always remember that management is better learned through experience.
What type of businesses uses job management? 
Generally, all types of businesses can use job management. However, it is mostly used in companies with large numbers of employees.
Can I use job management in sole ownership? 
Sole ownership means that you are your own employee. Therefore, you can possibly manage your own job by creating systemized methods for each of your work. With this, you can be capable of working and managing your time effectively.