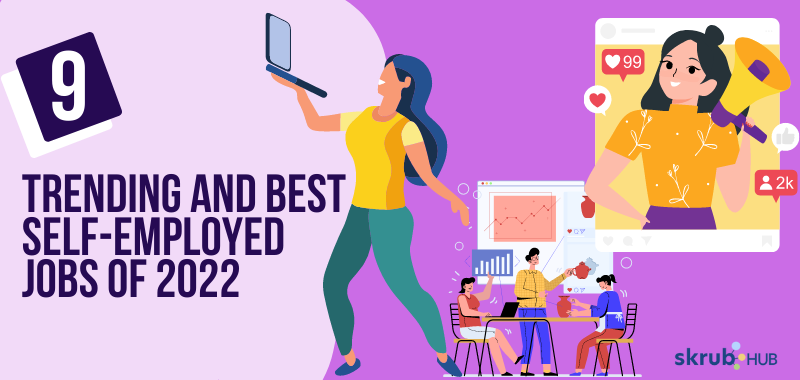 9 Trending and Best Self-Employed Jobs of 2022
9 Trending and Best Self-Employed Jobs of 2022
More individuals seek methods to rise despite the COVID-19 pandemic with the present circumstances. As a result, you might start to find employment to sustain everyday needs. Indeed there are numerous choices to decide to earn a living, and there are constraints that we must bear in mind.
Starting a job may provide you with many options, and establishing yourself to become stable is an attractive choice to make. It will give you the chance to show off your abilities while making more income. Putting your money and skills in good hands will allow you to succeed.
In today's job industry, there are several options that we can think of, and here are some of our best suggestions for you that you may consider. So continue to be inspired as you read, and you will undoubtedly grow your own experience and talents into a plausible and practical endeavour.
Trending and Best Employed Jobs of 2022: Top Selection
Online Freelancer
Businesses need a steady supply of unique information to compete with their competitors as content development becomes an increasingly crucial component in an online business. If you are a skilled writer, start creating samples to show your expertise to potential clients. In the vast internet world, there are many avenues to be self-employed. One example is selling yourself in an online job platform or portal such as Upwork.
Many online websites hire freelancers; although the pay is sometimes low at the start, the amount of experience you will earn will grow along with the income you will make. In addition, as you acquire knowledge from the field, you can use that as a bonus skill to put into your resume. You can also establish a solid portfolio that you can be proud of.
Similarly, outsourcing your talents in other fields such as graphic designing, proofreading, social media marketing, and other skills to companies who need this particular knowledge on a project basis will become your best bet to be self-employed. Not only that you can earn an income, but you will also have the flexibility of time that only online freelancing can offer. For example, if you are a social media specialist, you can seek a small business that needs help managing its social media accounts. You may also consult with other companies to improve their social media marketing strategy.
Cleaning Service Manager/Owner
One of the most appealing parts of being self-employed is the ability to choose your hours, pricing, and schedule. If you are skilled enough to manage or start a small business, you may begin with a cleaning service business.
These enterprises provide a lot of freedom since you may give just the things you love and not those you don't. For example, some cleaning business companies offer laundry services, while others do carpet cleaning.
As a cleaning service manager or owner, you only take on the things you specialize in; you can perform them with the excellence your clients need. You might also upgrade yourself in commercial cleaning since every establishment needs a thorough cleaning and sanitizing to keep diseases away from their employees. Judging that these businesses may be completely customized, you can utilize them the way you want them to be.
Event Planner
Event planning might be a profitable way to earn if you stick to being self-employed. You can focus on different areas, enabling you to work fruitfully on every occasion. This is a wonderful opportunity to profit from if you are well-organized. Many busy people are prepared to pay to handle things accordingly that they do not have time to consider.
Social Media Influencer
Everyone knows a bit of something, and every individual is an expert in his field. If you are specialized in a certain industry like cooking, speaking, or teaching, you may monetize your knowledge via various social media platforms such as Youtube and Facebook.
It is easy to monetize educational and instructional content nowadays since social media vlogs are trending at a rapid pace. It can take in many forms, such as videos, blog posts, podcasts, interviews, and even virtual animations.
Creating your own social media account will get you started to earn a self-employed income. It will get you to a head start and engage followers by providing relevant content to your audiences.
Food Catering Owner
If your friends and family can't stop gushing about your cooking talents, it may be time to perfect your abilities and begin a food catering service. You can do this at home or invest in a professional kitchen that you will need to provide food service in the market. 
Online Seller
Creating an online shop to sell things might be a profitable self-employed job that you can take. It has a business strategy that allows you to manage the business without physical stores and establishments. You can also give your customers additional convenience by enabling them to buy your products at any time of the day and everywhere they want. Furthermore, internet selling may help expand your client base by allowing you to sell to people in your area or even in other countries.
Online selling might not be for everybody, but be sure that you are comfortable with your target market if you have the guts to do it. Otherwise, it could create problems and challenges that may lead you back from scratch.
Online Teacher or Consultant
You may be happy to relate your experience to other individuals who want to learn that particular field of your expertise. For example, if you are a specialist in a specific topic such as science or statistics, you can sell online teaching and consulting.
As a result, you will be familiar with the forms and rules of the needs of the students on which coaching is the best option that they can get the knowledge with. Doing this while earning an income will be comfortable as the days go by, and by that, you can start your own online tutoring company if given the opportunity.
As with other self-employment jobs, you may service customers effectively via the internet or, in this case, a video conference platform like Zoom or Google Meet. This is one of the most trending jobs that we can observe in the new normal because of the limitation in face-to-face education; we can only continue education by adapting to technology.
Franchise Owner
Buying and owning your franchise is a practical way of earning flowing money. You are also entitled to start it without going from the basics since a franchise has been established already, and you only need to manage it to make it thrive. However, getting your franchise is a big step, and it might be intimidating at first since you will be handling it on your own.
There is no requirement for previous experience since you will be dealt with coaching from the CEO of the franchise business. It guarantees you that you will obtain the requisite operation and maintenance skills that you can utilize to run your franchise. Furthermore, the support and connection from the franchisor help small companies compete with big ones more effectively.
With a franchise, you get the benefits of a well-known product or service while being in charge of your career. However, you must make an effort to make it real, so it is vital to choose a profession that fits your interest and talents.
Home Rental Services Owner
Real estate investment is a popular self-employment strategy concept since it may offer a steady income source. It requires a lot of practice, but the experience and social skills you can make from it will help you level up your business into a new whole thing. The options are infinite if you have connections on your side and some experience in dealing with customers.
Final Takeaways
Once you have chosen which self-employed job is ideal, the next step is to transform your skills and passion into a lucrative and fruitful endeavour. You have seen already that there are many options that you can take to make an income that will become your loophole in deciding what's best for you. First, identify next your target customers to jump-start your business. Next is to meet them in person to understand their needs. In that way, you can become successful in all means, and the challenges that you will encounter can be easily solved.