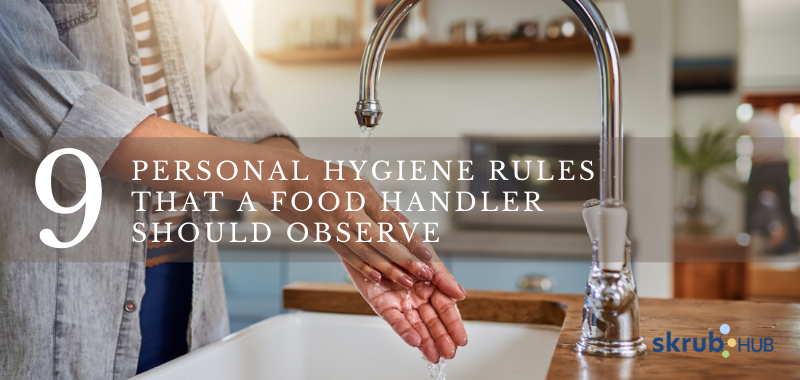 9 Personal Hygiene Rules That a Food Handler Should Observe
9 Personal Hygiene Rules That a Food Handler Should Observe
Personal hygiene is necessary for various contexts, but it is particularly critical in food handling services. It is also an essential aspect of adhering to food safety regulations. To create safe workplace conditions, certain and proper handling techniques are crucial. These include appropriate personal hygiene practices and food safety as well.
The consequences of poor food hygiene vary from the spread of foodborne diseases to costly compliance penalties. According to the World Health Organization, 10% of people worldwide become sick after eating contaminated food, and most of these are caused by bad hygiene. In addition, foodborne diseases hamper socioeconomic progress by draining health care systems and negatively impacting commerce and tourism.
Personal hygiene also goes a long way with clients. As a food handler, you handle foods, and people want to see you professionally and well-dressed. But, more importantly, it is all about avoiding food poisoning because every individual carries bacteria with them. So with that, here are personal hygiene rules that you should keep in mind to prevent bacteria from spreading from yourself to the food you'll handle daily.
1. Don't forget to wash your hands regularly
Washing your hands should be the golden rule for an individual to observe, not only for food handling but for everyday use. When you prepare to work, before handling food, after a long day's job, going into the bathroom, and so on. Washing your hands should be limitless!
The basic guideline is that the more you regularly do it, the better. And this is becoming essential in food handling because your hands are somewhat the transfer point of germs going to the food you prepare. Unknowingly you are distributing germs towards the food of your customers. Washing your hands entails more than just a fast rinse under the faucet. It requires a systematic way to ensure no germs will stay in your hands. Below are some tips for effective handwashing:
Tips for Hand Washing according to WHO:
Wet hands entirely with water and apply soap accordingly.
Rub hands palm to palm with a right over the left position.
Then rub hands palm to palm with fingers interlaced.
Rub the back of the finger by opposing them with fingers interlaced.
Do rotational rubbing backward and forwards.
Rinse thoroughly with running water.
Dry hands with a single-use towel or tissue.
Use a towel to turn off the faucet, and your hand is now bacteria-free.
2. Keep yourself simple.
When you handle food in the food handling area, remember to avoid putting on perfumes and nail polish. Doing this is impractical and dangerous because these can go into the foods you prepare. In addition, nail polishes may easily crack when prolonged and dried out, and these may flake into the meal you're serving. Strong perfumes might also leave a smell to the dish, particularly if it's heavy in fat. If you are the customer and smell something different from the food, would you want to eat that?
3. Your hair should be out.
Keep your hair out from your face and the food. This is one of the most noticeable things in a food handling area; every hair should be kept in place and out of any food preparation. Your hair is an endless source of food contamination and should be tied at the back. If you have been given a hairnet, use it consistently. Remember that it should be kept tidy and under control to avoid falling into the meals.
4. Sneeze it out.
Hundred of bacteria-infested water droplets are blasted into the surrounding air when you sneeze. The same is valid with coughing. If you ignore this, any food nearby will be contaminated. Also, it is not nice when you sneeze in front of a person. That would be an unethical way to do it. Instead, catch it fast using your handkerchief or tissue to keep the droplets from scattering. After which, don't forget to wash your hands before your serve meals again.
5. Dress appropriately and clean always.
Once you go to work, always dress in clean clothing. It may improve your look, and you will look more professional to your customers. As such, if you are given protective clothing such as a hat or gloves, it should always be cleaned and at the same time worn at all times. It is your obligation to do this every day because clean clothing will protect any food you prepare from any bacteria.
6. Say no to accessories.
Wearing jewellery and other personal accessories is not permitted in the food handling service business. This is because these objects may readily harbour dirt and germs, and they can even create physical contamination if these will fall into the food you're working with. So remember to leave it at your home when going to work.
If such jewellery and accessory can't be removed, they may be covered with a material that can be kept undamaged, clean, and hygienic.
7. Shorten your fingernails
Hand hygiene is about cleaning and trimming your fingernails, which trap dirt and germs underneath. It contributes to the development of ailments such as pinworms. Fingernails should always be kept short and cleansed using proper handwashing frequently.
8. Do not go to work if you are sick.
You should not handle food if you are unwell or worst if you have a contagious sickness. Bacteria spread rapidly, particularly when the sickness is readily communicated via food handling. You are not permitted to handle food unless you've acquired a medical certificate declaring that you are good to go as a food handler.
Remember to stay home and wait for at least 48 hours after your symptoms have subsided. Then, inform your boss immediately if you have symptoms such as cough and fever. As a food handler, you should be health-conscious in every way.
9. Health is wealth.
As a food handler, you meet many customers every day, which is a must to always be health conscious. An illness will impact your daily routine, but it also can affect the food you prepare. Other than sickness, if you have wounds and cuts, you should cleanse and bandage that properly to prevent them from going into the meal. This will keep the bacteria from the wound to contaminate the food.
Being healthy is a must! It is important to value your health, among others. Always take a bath and wash your hands properly. This will keep bacteria from harming your own health.
Why is personal hygiene important?
Personal good hygiene is essential because it helps keep you and your customers safe from contaminants and diseases. Presumably, food handling has a noble cause of delivering food safely as possible. Azanaw (2019) stated that food handling and good personal hygiene techniques are critical for reducing disease transmission from food handlers to customers. It also assists in maintaining a healthier and more productive workplace.
Final Thoughts
Failure to observe even one rule may result in vast outbreaks of food poisoning, leading not only to lost commerce and employment at every establishment but even in fatalities. Personal hygiene is a significant matter that must be addressed as such. The food sector cannot tolerate having employees who see this area as a game.
Personal hygiene is the most effective strategy to avoid communicable diseases and infectious disorders such as COVID-19. Proper handwashing also kills bacteria that might make you sick. Maintaining good personal hygiene can also assist you in avoiding the transmission of infections to others. Therefore food handlers play a critical role in ensuring that food safety guidelines are strictly followed throughout the food handling process.