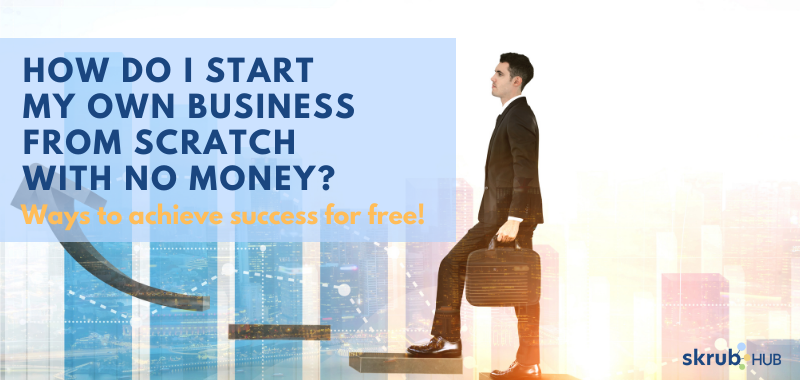 How Do I Start my Own Business from Scratch with No Money
How do I start my own business from scratch with no money? – Ways to achieve success for free!
Let's face it, nothing in this world is for free, but it is never impossible to start a business without money. It is never about having the capital, to begin with; instead, you can invest in your mind and skills to start your business. Furthermore, being an entrepreneur requires skills that can generate anything into income!
Although it might be more challenging than actually having the capital to start a business, you can never go wrong with investing in your skills and improving them to create your strategy. In addition, you can always be innovative and use your resources for something profitable. With all that said, here are the ways to start your own business from scratch!
How to start a business from scratch: 5 Informative ways
With all the possible business startups today, you can actually create a business with just simple steps. There are a lot of free resources that can help you improve your skills and find alternatives to the materials you need. Always remember that there is nothing that can stop a person that perseveres!
#1 Identify what type of business you want to start
Technology has paved the way for entrepreneurs to succeed quickly. It is also the source of income for many people, especially during work-from-home set-ups. Additionally, people also learn their skills online because of the various teachings from sites like YouTube and the like.
To start a business, you must know which type you want to start. While you do not have the money yet, you should choose a purely skill-based business. You can also decide whether you want to provide your services online or physically. There are equally as many opportunities for both; keep reading to know them.
#2 Be Innovative
Being innovative can open your eyes to the possibilities of your own resources. For example, if you have scrap things at home, you can use them to create something profitable. It does not necessarily need to be artistic; it just has to be sellable to your target market!
If you have innovative thinking, you can never be afraid of failure. On the contrary, innovation helps you generate more and more ideas and improve with each one. So it would be best if you never forgot not to be afraid of change and the thought of new things. Trying and risking are essential factors in creating a good business.
#3 Analyze your skills
You should know where you are great at or what skills you can improve. For example, are you good at sales-talking or typing? Either way, your skills pave the way for more opportunities in online or physical businesses.
Generally, you must acquire good communication skills if you wish to start your venture. Communicating with other people helps you negotiate for your resources or ask for advice. Look for knowledgeable people that are openly welcome to give their tips and tricks in business. With that, you can widen your skills and apply their advice to your future business.
#4 Apply for a loan or business grants
Loaning and grants are very different from each other; nevertheless, both are perfect ways to have capital. Both have specific requirements to be attained to be approved for the loan or grant.
Business loans are initial capital that you can get, but you will pay later. Banks are often open to providing loans, especially to aspiring business owners. Remember, interests always come alongside loans. Interest rates are the additional money you have to add to your payment as time passes by.
On the other hand, business grants are simply free money if you put them into perspective. All you have to do is impress the panel with your business proposal! Moreover, these often come from people who want to give small entrepreneurs chances. Most of the time, these grants come from the government, donors, and other companies as well.
#5 Ask help from your friends or family
It is never discouraged to ask for help from other people, especially from your close ones. You can ask your family members or friends to lend you money just for a starting capital. However, make sure that you will pay them on time and adequately! Do not even think of getting away with your loan just because you are close with your lenders.
Physical businesses you can start without the need for money
Being a good entrepreneur, you must be able to sell your products and services. Creating a physical business is more reliable than an online one because it tests the credibility of your business face-to-face. You can also avoid scammers and fake buyers with this business type.
1.     Arts and Crafts
If you have artistic skills, you must use them to your advantage! Crazy colours and abstract lines are the common trends in art today. So if you have leftover materials from your art hobby, you can use them to create something profitable. You can also try accessory making as a business, primarily through the fashion trends that are evolving today.
2.     Cleaning services
If you are good at cleaning the house or mowing the lawn, you can offer your services to your neighbours. Your target market is those who may be too busy to clean up their home and surroundings. In conclusion, it is a win-win situation for both of you!
3.     Music lessons
If you are a musically-inclined person, you must also love teaching other people about your passion. Most people, especially kids today, want to learn new skills that can be an additional hobby. Knowing how to play an instrument can boost you in gathering potential students to teach.
Online businesses you can start without the need for money
The advanced technology increased business opportunities online. As you use social media all the time, it can also be a medium to sell your products and services!
1.     Online selling
If you have clothes you will not be using anymore, you can sell them online to people who want to buy them. Sites like Etsy and Amazon can help you engage with more customers and sell your products.
2.     Copywriting and content writing
If you are a person with a passion for writing, you can use it to earn money through content creation. Writing online helps you improve your skills while generating money from it. All you need is your device and abilities!
Conclusion
Business opportunities are everywhere! Moreover, you do not need a huge amount of money and resources to create your business. Your skills and strategies are the crucial factors that can give you a head start on your journey. Being an innovative thinker, you must be able to use your available assets to their best.
Give yourself a chance to improve your skills. In that way, your opportunities can be limitless, and you will become more flexible in your entrepreneurial life. In addition, being persevering and willing promotes a positive mindset that will help you succeed one day. But, you should never forget to be patient; success does not come immediately!
FAQ
How can I boost my business proposal?
A good business proposal should be organized and straightforward. You must always get the attention of your panel and make them listen to your ideas.
Where do I find angel investors?
If you want to start a small business, you can always ask your family for a starting capital. However, there are also private investors in companies that are aligned with your field.
How do I improve my business?
For the first profits you have earned, you must invest it back into the business. Buy resources that can help you improve your quality so that you can also increase your price.