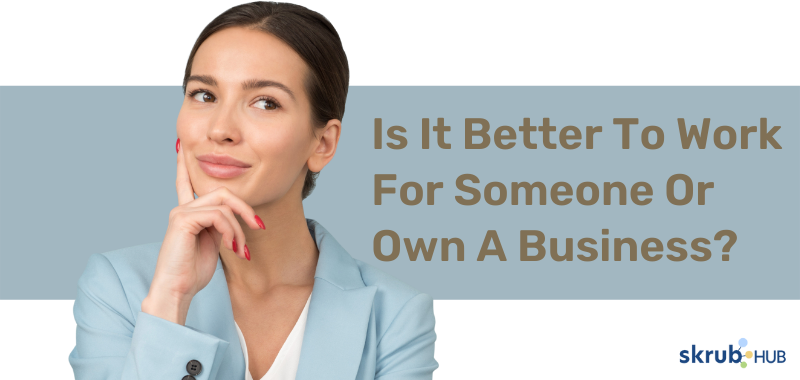 Is it Better to Work for Someone or Own a Business
Is It Better to Work For Someone Or Own A Business?
Many individuals are anxious about deciding things, especially how to earn money for a lifetime. However, you can choose only two options: either working for someone or owning a business. Owners feel free and exhilarated whenever they accomplish something by managing it in operating a business. At the same time, others prefer to work for someone else to have secured employment and stability.
Whichever you choose will have different output, and as long as you profit from it, everything will be all right. However, deciding for the better comes with great responsibility. Thus, we compiled a guide on the pros and cons of running your own business versus working for someone to assist you in making that important and life-changing decision. But, of course, it's up to you in the end whether you choose the latter or the former.
Working For Someone: Pros and Cons
Pros
Job security at its finest 
The prospect of having steady employment and job security is one of the many reasons many individuals opt to work for someone rather than running a business that has many risks. It is the primary reason people do not leap starting their own business. Many of us aren't risk-takers, and we tend just to settle down and earn a living. Job stability and security are essential to those who have families. They should be secured to feed their family every day rather than risk their money competing in the market.
 Health and Balance Lifestyle 
To work for someone is entitled to work with a fixed schedule. Most people consider this option because this will make life much more straightforward. With this work option, you can maintain a healthy and balanced lifestyle, avoiding your job and ruining your personal affairs. It can also provide you with leisure time on weekends and holidays that most people look forward to. However, when you manage your own business, you may discover that you may not have as much spare time because you will always think about it, if not work around the clock to make it successful.
Working with a well-established company will create connections to other people. Usually, there are times that you are working with a team to achieve such an objective for your firm and there are also organized social activities that can help you grow professionally. You will also be part of the whole community that you can benefit from. Working with others might provide you with a sense of professional satisfaction that you may not experience when running your own business.
Cons
Working for others will not allow you to do things as much as you want. You will always depend on the owner or the manager to work things out in order. If you strike a big transaction, the money will go over directly to the owner and not yours. Rankings and promotions are a bit hard since it all depends on your working owner. That's why you should need to work hard for it to get raises. However, if you own a business, you are the sole authority, and you can do things with freedom.
Furthermore, it is important to note that you will most likely experience tension and pressure while working for someone else's firm. All positions will naturally come with various types of stressors, particularly high-paying professions.
Most establishments and jobs can be found in the city centre, which frequently means you will suffer a lengthy and tiring trip to and from your work. But if you own a business, you have the luxury of choosing when and where to work because you are the boss. Things might also get complicated when commuting because there are some instances that you will stay in long lines to get on a bus or get stuck in traffic. That may be frustrating if you are experiencing that every day.
Communicating with people you don't like
Once you are working with others and your manager will order you to transact with someone you don't like, you don't have a choice but to do it. You are not in charge of whom to deal with because you only work for the company and just earn a salary for a living. However, there might be possibilities of getting promoted or working from home to make things simple.
Own A Business: Pros and Cons
Pros
The best thing about owning a business is you have the freedom of everything. Having your own business will entitle you to be flexible in deciding when to work, what job you accept, and what work you refuse. The feeling of control is one of the major reasons many desire to be small business owners because they choose to live their lifestyle rather than doing the dirty work for others. According to the 2017 American Express OPEN Small Business Monitor, more small business owners are happy running their businesses. In fact, 81% of them say that they enjoy doing it.
Take charge of the money.
Having your own business will entitle you to have more control of your finances. However, taking care of that is a great responsibility to make. At first, running a small business is a challenge for starters, but when the time comes that you have broken even and successful, you have control of that money.
You are the captain of your ship.
With your own business, you may hire someone to do a specific task, and you may employ others to perform duties that you are not best at. This is one of the perks of having your own business because you have more control over what things to do and have the authority to instruct others to make your business successful. According to Smallbizgenius, 55% of small business owners pursue their own business because they love the idea of being the sole person to manage it.
Cons
One of the biggest worries of having your own business is that it comes with great responsibility and undertaking. For many, starting your own business is a big expense to adhere to. You will need a big capital to start one, and you should carefully organize your finances to create a reasonable budget. However, there are lots of financial assistance that you can have, such as grants and loans, but it will take some time to make it a reality.
Running your own business is very demanding, stressful, and challenging most of the time. However, it may be gratifying if you can achieve your goals. If you are a person who loves doing challenges, then conquering them is not a problem, but with others, it might be challenging because it is very crucial to make decisions for the future of your own business.
It's great to be enthusiastic about concentrating on making your own business successful, but you need to have a breath of fresh air to balance things out. Having your own company will blur the lines between your personal affairs and work. This isn't always a bad thing because it can be controlled. 
Final Takeaway
Now that we have covered up everything, the choice is yours to make whether you want to work for someone or own your business. It is entirely up to you which perspective you will choose. However, there are some considerations to be made to make a full-fledged decision.
If you are a fresh graduate, your perspective should be to have experience before going into your own business. Working with someone will allow you to grow, and working with other professionals will enhance and develop your way of going to the top. Working also helps you to have a deeper understanding of how to run a business.
Starting your own business is not also applicable to everyone. To achieve success, you should have visions and goals and having a business is about gaining momentum on the market. If you want to start one, you should have business experience to handle things before running a business.
With that said, it's up to you entirely. You are the one who is running your life, and you have what it takes to be successful at any cost. Whether you work for someone or start your own business, success will always be there waiting for you.