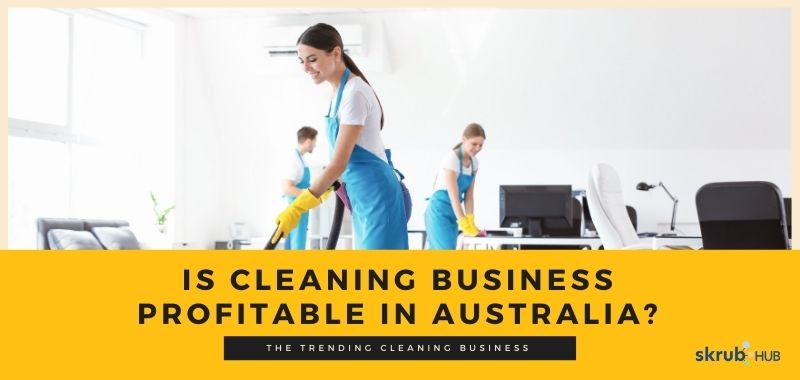 Is Cleaning Business Profitable in Australia?
Analysis: Is Cleaning Business Profitable in Australia?
There are several business opportunities that you can find in Australia, according to Austrade. However, if you are seeking to start one that can get you to greater heights, the cleaning business industry is the best choice for you. Over the years, the cleaning industry has been growing rapidly, and it's always been a profitable trade in Australia. But the question now is, how much money can you make with it?
The cleaning industry has seen a major boom in the last 15 years. Because of that, it has been a common decision among Australians. However, it would be best to get your facts straight before jumping into this line of work. So read below to get started if you want to know more about how far a cleaning business can get you.

Is cleaning a profitable business?
Cleaning services may be a successful business venture for new business owners. However, they should have a clear view and strategy to guarantee running at a profit. This trending business is perfect for new business owners since it provides a fundamental concept that can be scaled up quickly with a solid strategy.
If you have the proper skill set, you can earn an average pay that ranges from AUD 23 to AUD 27 an hour, according to the world's number one job site, Indeed. The best way to find out how much profit you can make in the cleaning business is to research your area. Unfortunately, there is no national average salary for cleaners since rates vary by region in Australia. This means the going rate is the same for Sydney and Melbourne but is higher than Perth, Adelaide, and Brisbane.
Hourly Salary Rates of Different Cities in Australia for Cleaners
Source: Indeed, 2021
Regardless of the area in which a cleaning business operates, the basic profit-making premise stays the same. The customer is provided with a cleaning service at a fixed rate. This price is estimated by the company, considering the considerable expenses that it will take to perform the task. Of course, various factors also affect your profits, such as business costs, clients satisfaction, and market demand.
Cleaning business owners must balance their customers' feed to optimize their profit potential for each work while competing successfully in their area.
Facts and Figures of Australia's Cleaning Industry
The cleaning industry is a vital sector of the Australian economy. Currently, it employs hundreds of thousands of people nationwide. This section can further look at some key facts and figures about it and learn how the cleaning business has grown over the years.
According to FM Media, the business cleaning industry is thriving at AUD 4 billion annually. With that enormous amount, it's no wonder why so many people are engaged in this type of business. People are willing to get out of their way for a quality cleaning service.
The commercial cleaning industry is booming at a 4.1% annual growth, with more properties and business ventures to come over the next five years. This means that the cleaning business is in demand. Reports conducted by Allied Market Research indicate that 32,421 commercial cleaning businesses with about 151,300 people employed. This number is expected to grow even more until 2022, when they plan to have over 50% growth rate in the labour force. (Deshmukh & Kumar, 2021)
In this current pandemic, cleaning businesses are in demand because people seek help sanitize and disinfect their homes and establishments to prevent the spread of the disease, according to Business Australia.
Recent studies conducted by IBISWorld state that the cleaning industry may reach AUD 13.2 billion within this year.
Now is an excellent time to start a cleaning business with those numbers above. The demand for it is only going to grow as the pandemic progresses. So, if you are looking for a business venture that is high in demand, the cleaning business is just the right business for you.
Latest News About Cleaning Business In Australia
The commercial cleaning business has been in its high peaks since the COVID-19 pandemic started. As a result, businesses and establishments quickly realize the importance of a clean and sanitized environment to prevent the spread of the disease.
The numbers show how the cleaning business industry boomed under the COVID-19 pandemic. According to IBISWorld, it is expected to grow by 1.8% of its market size this year, which would make this business venture even more profitable than before.
Many are turning to professional cleaners for assistance – from households to commercial establishments. If you are looking to capitalize on this trend, now is the time to do so. Investing in the cleaning business sector would be a great deal for you.
However, as the threat of COVID-19 continues to loom over the country. Businesses must implement risk management strategies to protect employees from potential exposure. The OHS Act requires all commercial cleaning companies and those with domestic staff members must follow strict protocols given by every city.
What is the most profitable cleaning business?
Cleaning companies provide home and commercial cleaning services for various clients, including hotels, offices, schools, restaurants, and private residences. The effectiveness of these businesses relies in part on the number of staff members in their roster.
According to Nick Deligiannis (2021), managing director of Hays Recruiting Experts, cleaning experts are in demand in 2021 and onwards. Some in-demand cleaning jobs include the following:
Source: Indeed, 2021
Australia has a thriving economy and a large population, making it a great place to work in the cleaning industry. These roles offer excellent opportunities for career growth and development, so if you're interested in making a move into the cleaning business industry, now is the time to do it.
Factors Affecting The Profitability of Your Cleaning Business
If you plan to invest in the cleaning business sector because you know that it is profitable, you should do it the right way. Many factors affect how profitable your cleaning business will be, such as the services you offer, your marketing strategy, and how you handle your team.
Political Factors: Does your state require a cleaning business professional certificate? In some states, they do. For example, in Victoria, the government issued a resolution stating a need for a license (Victorian Chamber of Commerce and Industry, 2018). Does your state follow the same rule also?
Economic Factors: Are cleaning businesses in demand in your locality? Will this mean more profit or competitors? The financial status of a state affects everything. Therefore, companies have to plan their marketing strategy to survive.
Workforce: How do you treat your personnel and worker? Do they have company representation? Your employees should have a safe working environment get the same opportunities and training.
Marketing Factors: Marketing is the key to attracting new customers. You can advertise by putting up flyers or using your connections. This is a good idea if you know your area well. You can also post ads on social media sites such as Facebook, Instagram, and Twitter for more engagement.
Business Type: Would you specialize in cleaning areas, including carpet cleaning, residential and housekeeping, or commercial cleaning? Does your business focus more on waste management, office cleaning, or cleaning equipment and products? The first step to start a cleaning business is deciding what type of cleaning business you would venture into. For example, you may begin a residential, commercial cleaning company or a mobile car detailer.
Final Takeaway
One of the best ways to utilize your time is to put it into good use. Starting your own cleaning business will do the trick. With all the work that needs to be done in homes and offices, you'll be surprised with how many potential clients will need your services.
The best way to find out if a cleaning business is profitable in your area is to plan it out and take some action. Research everything before making a move. Benchmark from other cleaning companies and have a business plan. In that way, you can survive the ups and downs in the world of business.