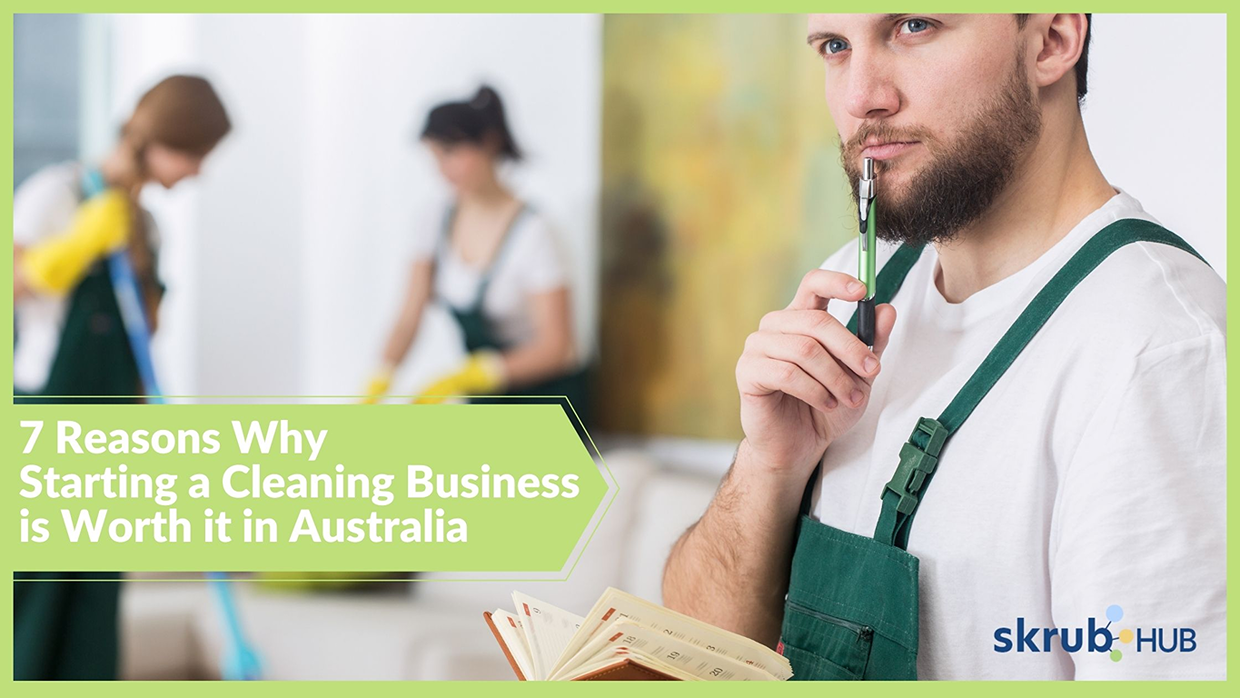 7 Reasons Why Starting a Cleaning Business is Worth it in Australia
Reasons Why Starting a Cleaning Business is Worth it in Australia
According to industry watchers, more than 30,000 commercial cleaning businesses in Australia employ around 150,000 employees. And statistically speaking, the overall number of workers and cleaning business establishments are on the rise. It is even predicted to increase even further by the start of 2022; hence there has never been an excellent opportunity to enter the robust cleaning sector.
Not only has it resulted in numerous employment opportunities, but it has also resulted in the demand for house cleaning and the like. Despite the new normal that we are in, the cleaning business industry in Australia is expected to flourish in the next few years, making it one of the most profitable investments to consider.
Cleaning businesses in Australia are popular for various reasons, ranging from job satisfaction to financial potential. Furthermore, owning one has multiple benefits and advantages, so the cleaning business sector expands rapidly.
Starting a cleaning business is an excellent choice for any entrepreneur since it allows you to make happy and satisfied smiles after a cleaning job while having unlimited work opportunities and connections to your satisfaction. Here are some of the reasons why starting a cleaning business is worth in Australia:
Why creating a cleaning business is worth it in Australia
1. Economy-independent and Profitable
A cleaning business is one of the few that does not rely on a thriving economy or experience market fluctuations. It is also possible to generate an income of $3000 to $5000 weekly. You may make money daily if you plan and innovate various cleaning services and strategies for commercial and residential customers.
One thing that makes this cleaning business worth it is how solid its cash flow can go, and you also have complete control over how you conduct and manage the business. So establishing a cleaning business is the perfect option if you want to start earning money right away. Here's an article about the profitability of a cleaning business in Australia.
2. Low Capital Costs
The good thing about starting a cleaning business is that it does not necessarily require much starting capital or training. And you won't have to worry about gaining the essential certification to do the cleaning job.
This is due to the modern technology that we are in with the use of a management system concept, in which you use your cleaning passion and your management skills and organization to oversee a team.  You may also opt to adjust the elements and factors according to your location to maximize opportunities.
3. Unlimited Work Opportunities
Although cleaning businesses are not as glamorous as others, always think that all companies must maintain a clean environment. You will never be short of work, and that's a big plus when you plan to start one in Australia.
A cleaning business is a service that is always in demand. That is, most companies and other companies will require your assistance again and again, bringing you constant business as well as steady, regular work and revenue.
4. Flexible Management
One of the perks of running a cleaning business is it does not bind you to a daily routine from Monday to Friday. Most clients don't mind when you arrive as long as the job is completed. While you can do the cleaning yourself, you can also employ workers to help you.
By then, you'll have more time to concentrate on your cleaning business since you won't have to worry about the daily operations. You may run it as you want it to be, enjoying the financial rewards and professional satisfaction that comes from a reputable business owner.
5. Every day is an Adventure
Come to think of it; it is never dull when you have a cleaning business because you can meet different clients in different areas. Expect each day to be different when you are a cleaning business owner, and new challenges will come to you along the way.
You may have the chance to work with people of all sorts and walks of life. Your obligation and responsibility are to learn more about your clients, what motivates them, and their issues. It never gets dull with each passing day.
6. You are a Life Saver
Almost everyone knows "Cleanliness is next to Godliness". You may not be a medical practitioner or a firefighter, but when you are in the cleaning business, you will be assisting in saving lives. The most effective way to prevent sicknesses, diseases, and accidents is to clean.
Aside from initial impressions, health is the primary reason why having a clean home is vital. Whatever is going on in every home will reflect the living environment, directly influencing health. That is why a cleaning business will give you the satisfaction of helping create a healthy society.
7. Demand is High
The growing demand for cleaning services is due to the city lifestyle, and cleaning is no longer a temporary thing; it has become a need for everyone. Nowadays, most individuals working the whole day are often exhausted and have little time to clean their homes.
Due to hectic schedules and heavy workloads, it isn't easy to keep the surroundings clean, which is why a professional cleaner comes into the picture. Weekends are also highly valued for leisure time activities and relaxation after a long week's work, and most individuals are hesitant to give up this free time for cleaning.
Cleaning businesses are in great demand and will continue to be so. It's an ever-increasingly popular market. Most families see their home as one of their most valuable belongings. When you start a cleaning business, you will save families time while reassuring them by aiding them in maintaining and improving their respective homes.
Final Takeaways
Investing in a cleaning business in Australia is a complex thing. It is one of the most challenging and potential businesses that demands much planning and preparation. Each company takes a different response, whether it offers something well-suited to a new environment or has adopted a new business plan. However, as the COVID-19 pandemic continues to bring new hurdles to businesses, some have behaved well in the face of adversity.
Before starting your own, you should ask yourself the following questions: Are you in excellent financial and physical health at this point in your life? Do you want to concentrate on offices, retail, or residences? Are you willing and able to perform during the start or when difficulties arise unexpectedly? Are you available to work in the evenings and on weekends?
After answering these questions, you will gain a sense of direction to what appeals to you the most. Always keep in mind that no business is without risks, but knowing the current situations and forecasting what will happen in the following years is a critical step toward long-term cleaning business success.
Even with the struggles associated with the pandemic and the setbacks we face, the cleaning business will be a fantastic idea to explore, offering more opportunities and benefits to a new business owner.